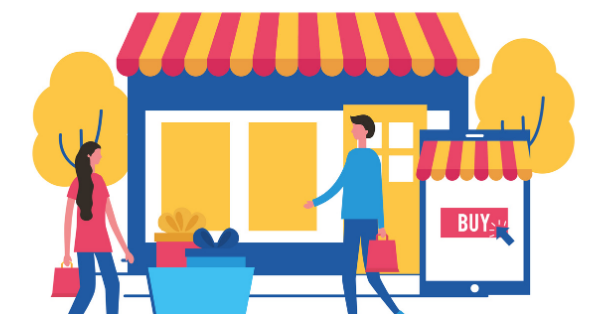 The retail industry has always been fascinated by "disruptor" brands. We even integrate their names into our daily conversations:
We refer to the "uberization" of crowd-sourced business models.

We "google" things in all search engines.

We talk about the "Warby Parker" try-on experience.

We reference the "Netflix model" when discussing the subscription economy.
When it comes to chain grocery stores— Trader Joe's changed the paradigm. By selling about 80% private-label foods (under Trader Joe's brand), the Caribbean-themed grocer essentially cut out the middleman in big-box grocery. In other words, they removed a layer in between their brand and their customers.
While it's not exactly the "traditional" direct-to-consumer model, both Trader Joe's and these other "disrupter brands" have a key similarity—the desire to truly own their retail channels and take their products directly to consumers.
In this guide you'll learn the fundamentals of direct-to-consumer (D2C/DTC) retail, and what your brand needs to implement a successful strategy.
Table of Contents
1. What is Direct-to-Consumer (D2C) Retail?

2. How D2C Changed the Look of Retail

3. 6 Must-Have Components for a D2C Strategy

4. Why Retailers are Making the Switch to D2C

5. D2C Thrives Via Omnichannel

6. Having the Right Technology Stack for Success
What is Direct-to-Consumer (D2C) Retail?
Direct-to-consumer retail is the methodology where retailers "own their retail channels" and the fulfillment thereof —versus relying on a larger third-party retailer. This can be done via their own website storefront, brand app, brand stores—or when they are a "direct seller" on marketplaces versus a wholesale vendor.

Historically, retailers relied on general stores or department stores to get their products in front of their consumers. They'd compete for "shelf space" or the coveted place in the catalog. They were at the mercies of these stores because there weren't many other profitable channels.

Now, thanks mainly to the digital era, smart phones, and popularity of ecommerce, retailers see the immense value of selling their products directly to their customers via their own website, branded retail stores, or a robust omnichannel model.

A good way to differentiate between direct to consumer and other methodologies is to ask the question—"who owned the inventory just before the sale?" If the answer is still the brand, then it would be a direct-to-consumer channel.

For retailers, direct to consumer can be an aspect of their retail strategy or the primary methodology.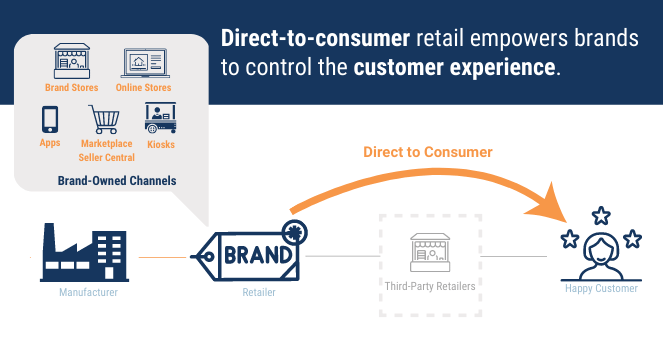 How D2C Changed the Look of Retail
Ecommerce has leveled the playing field by giving all retailers – no matter the size – direct access to their customers. In 2007, Andy Dunn, founder of Bonobos, coined the phrase "digitally-native" to describe online, direct-to-consumer startups. (Think: Casper, Warby Parker, Allbirds, UNTUCKit, The Honest Company, Birchbox, etc.). These brands flipped the retail script by generated the majority, if not all, of their sales through online channels.
Strong ecommerce systems allowed these brands to take off without having their products in physical stores because they were able to speak directly to their target market through social media, online advertising, and email marketing.
While ecommerce jumpstarted the D2C model, it is not the only way retailers are selling directly to their consumers. Here's a list of other D2C examples:
Flagship stores

: Brand-owned retail stores placed in high foot-traffic locations such as New York, San Francisco, and other major cities.

Full-line stores:

Stores that not only sell products but tout in-store experience, elevate brand awareness, and market new products. (Think: Apple retail stores)

Outlet stores:

Locations that sell discounted branded items

Kiosks:

Small stations inside larger department stores where you sell only

your

product. (Think: Samsung kiosks in Best Buy or Verizon kiosks in Costco.)

Pop-up stores:

Temporary, short-term locations to minimize strain on current stores during peak seasons, create buzz around a new product launch, or to test out a new market.

Brand experiences:

Taking physical locations and refocusing them on the customer experience rather than the product. (Think: CapitalOne Cafés)
All of these D2C retail approaches increase the number of owned channels—while still enabling the brand to have control of the customer experience—which brands can lack with big-box stores or third-party marketplaces.
6 Must-Have Components for a Direct-to-Consumer (D2C) Strategy
So, what do retailers need to be able to sell directly? How can brands assess if D2C is the right approach for them? Here are six must-haves components for a D2C strategy:
1. A Personalized Experience
Direct-to-consumer retail is about creating one-to-one relationships with your customers. To do that, you need to be sure your advertising, communication, and your digital storefronts have relevant information for the individual shopping on your site. (i.e. product recommendations, rewards points, local sales, loyalty programs, etc.)
2. Brand Ambassadors
When competing against monster retailers, building a community of brand ambassadors is a key advantage for small to mid-sized retailers. These ambassadors will be influencers for your brand and will provide you with a larger audience than you could have reached on your own.
3. Frustration-free returns process
Returns are inevitable in retail but are an extremely important part of the buying decision. In fact, over 60% of consumers look at a retailer's policy before buying. Luckily, the majority of consumers (~90%) will shop at a retailer again if the returns process was simple.
A customer-centric returns process includes having multiple return options such as online returns, printing shipping labels, or return online purchases to a store (BORIS). While BORIS may seem like a "nice to have" a surprising 61% of buyers want the option to return an online purchase in a store. (Source)
4. Consistent customer experiences
Consumers expect the same experience whether it's walking through the front door of your physical store, s
crolling your website, speaking with a customer service representative, opening their
package,
or
returning
/
exchanging their product. Direct-to-consumer is all about the consumer – in every stage of their buying
journey.
For example, if your in-store return policy differs from your online policy (or you don't have the capabilities to offer buy online return in store (BORIS) options), you run the risk of confusing or frustrating buyers and therefore decreasing the likelihood of a repeat purchase.
5. Flexible fulfillment network
Getting your products into the hands of your customers as quickly as they want, and as efficiently as possible for your business is critical to succeed in direct to consumer. Retailers not only need an optimized distribution network, but order fulfillment capabilities that are flexible to adapt with customer expectations and your retail strategy.
For example, with a polished D2C experience— you can create routing logic to always ship orders "complete" (all items in one box) so your customer has a tailored unboxing experience. Or, if your brand promise is shipping products in 2 days or less, you can create routing logic based on proximity, and have shipments arrive separately. If part of the order is at a different warehouse, you need distributed order management (DOM) capabilities to fulfill the order in a split shipment.
Unique fulfillment scenarios like this are easily achievable through a comprehensive order management system.
Read→What Every Retailer Needs to Know About Order Management Systems (OMS)
6. Headless commerce
Headless commerce allows you to promote your products on any platform – website, mobile phone, smart watch, touch-and-go pay, etc. – all without sacrificing your biggest asset…your brand. It puts your customer in the driver's seat, giving them a seamless shopping experience.
Why Retailers are Making the Switch to D2C
When the technology emerged to allow retailers direct access to their customers, it also gave them the data and therefore the opportunity to create personalized customer experiences. Gone are the days of blanket advertising (to the dismay of Don Draper). Customers now expect tailored communications, advertisements, and product recommendations.
"The customer is king"
Consumer expectations have never been greater. Thanks to ecommerce giant, Amazon, buyers now expect a convenient shopping experience where they can get products within a few clicks, have it arrive on their doorstep in 1-2 days (or pick it up at their preferred location), and easily return anything they don't want at no cost. Most recently, they don't even require returns to be repackaged—truly living up to their first leadership principle: customer obsession. It's a steep order for retailers to live up to.
Successful retailers learned one way to combat the "Amazon effect" is through unique, direct-to-consumer retail experiences. Not only do they give their customers the best shopping experience, but they give them differentiated experiences such as product recommendations based on order history, customized products, socially-conscious missions to support, and a sense of community – all things that consumers wouldn't receive when buying their product from a third-party seller.
And buyers have responded to these differentiated experiences. Over 55% of shoppers prefer to shop directly with the brand rather than deal with a middleman. They want to speak with the brand directly – whether in person, on the phone, or through chat.
Read Now → Differentiated Experiences: The Secret to Competing with Amazon
Owning your brand
One of the biggest benefits of direct-to-consumer retail is completely owning your brand experience. You control the brand narrative, the look and feel of your product and packaging, the parameters of your return policy, and the tone of voice of your customer service reps. You don't have to worry about losing customers if third-party stores misrepresent your brand or treat your customers poorly because you control the entire buying experience.
You also own your customer data and can put it to work for you. You can:
Determine your cost of goods sold (COGS) to maximize profitability

Understand your inventory velocity to avoid stockouts

See "top products" and most-likely-to-return products

Leverage business intelligence tools to help forecast future order volumes

Create personalized email, social media, and advertising experiences based on past buying behavior

Have the insight to quickly adapt your retail strategy based on trends and discoveries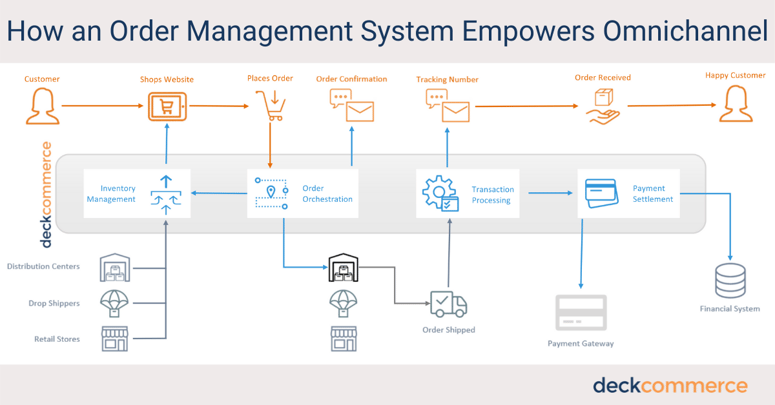 D2C Puts Retailers in Control of Growth
When you have direct access to consumers, you are in direct control of brand growth. You have the flexibility to adapt to any market changes no matter how unpredictable (such as a pandemic closing brick-and-mortar stores for months).
When certain channels become less popular—or even worse … unavailable—you still have the ability to engage directly with your customers and own your growth plan.
D2C Thrives Via Omnichannel
As popular and profitable as the direct-to-consumer model has become, it still doesn't exist in a silo. The line between ecommerce and brick-and-mortar shopping has blurred, and customers expect to have the same experience whether strolling through your store or scrolling on their phone.
Omnichannel commerce puts the customer, not the product, at the core of your business strategy and creates a unified shopping experience across every customer touchpoint. And when you have an omnichannel retail strategy, you can leverage the benefits of each channel to complement the other channels.
Even the digitally-native brands that emerged in the rise of D2C have started opening physical, brick-and-mortar stores to stay close to their customers and create differentiated experiences. For example, Kate Hudson's activewear brand, Fabletics started as an online-only D2C retailer offering VIP discounts to their monthly subscribers. Then in 2019, Fabletics opened 49 retail stores across the U.S. bringing the same discounts and products customers learned to love online, into their physical stores. Shoppers simply give the store associate their online membership number and receive the VIP prices they receive online.
Similarly, Black Rifle Coffee company, the veteran-owned, subscription coffee company launched its first brick-and-mortar store in Texas in 2020. They've cultivated a large online following with their America-themed coffee blends and mission-focused brand giving a portion of the proceeds to veteran, law enforcement, and first responder causes. By opening brick-and-mortar locations, Black Rifle Coffee Company is bringing the unique experience their customers have come to love online into their communities.
And the renown digitally-native brand, Warby Parker, who mastered both outbound and inbound order management through their try-on-at-home experience, opened over 120 retail stores. While consumers still primarily purchase online, the stores serve as "showrooms" that complement their already-robust ecommerce channel.
All of these examples demonstrate how D2C retailers are creatively looking for ways to connect with their customers, as directly as possible, while leveraging an omnichannel approach to enhance each channel. As Aristotle once said, "the whole is greater than the sum of its parts."
Curious about the history of omnichannel retail? → Read The Ultimate Guide to Omnichannel and Unified Commerce
Having the Right Technology Stack for D2C Success
All these successful direct-to-consumer brands have one thing in common– they all have the right people, processes, and technology to help them execute on their plan.
For many high-volume retailers, an order management system (OMS) allows direct-to-consumer retailers to delight their customers with seamless shopping experiences by enabling them to:
Aggregate orders

across all channels including your digital storefronts, online marketplaces, and POS systems.

Increase data visibility

by monitoring and managing all your orders in one central location.

Manage the

full order lifecycle

from the time the order is placed to the returns and exchange process – including setting up advanced automation rules for order processing and return management that allow customers to buy/return anywhere.

Provide

customer service reps

full visibility into

every order

including the ability to modify existing orders, provide appeasements, and handle refunds and exchanges—driving customer satisfaction.

Know inventory

count and velocities (across channels

)

through robust inventory management modules.

Fulfill orders from anywhere

with automated and optimized fulfillment operations that take into account multi-point distribution criteria.
D2C Success in the Midst of a Pandemic
During the Covid-19 pandemic, many retailers had to react quickly when they close their brick-and-mortar stores. Powerful order management systems allowed omnichannel retailers to pivot their operations in order to drive revenue through other channels, keep their associates working, and continue to connect with their customers.
Many retailers converted their closed stores into micro-distribution centers and leveraged their store associates to pick, pack, and ship orders with help from their order management system. Some used their stores as socially-distanced "showrooms" and fulfilled all orders online from their distribution centers. Many chose to shift from "buy online pick up in store" to "buy online with contactless curbside pickup" including Best Buy who saw record ecommerce growth in Q2 of 2020.
Summary
The direct-to-consumer model offers retailers a controllable way to connect and engage with their customers. Owning their data, communication, and overall customer experience are compelling reasons for many retailers to venture into this channel.

With the right people, processes, and technology in place, direct-to-consumer retail can enhance (or help build) your omnichannel strategy and create those memorable experiences that help turn every customer into your best customer.