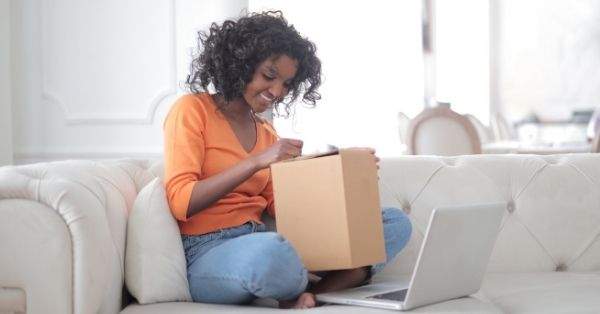 Did you know a whopping 75% of shoppers think returns are the most painful part of buying online? And in today's world, an outstanding customer experience is expected well beyond your digital and physical storefronts – through the entire order lifecycle.
After you perfect your shopping experiences to convert the most customers, there are still several things that need to happen to keep your best customers returning to shop. While consumer expectations skyrocket and ecommerce orders soar, the importance of a smooth returns experience is becoming more important for retailers that want to retain customers.
Payment processing, shipping, and delivery are all important post-purchase touchpoints for your customer experience, but the returns process can be one of the most pivotal moments in a relationship with even your best customers. Returns don't have to be a point of frustration for your customers. With the right process and OMS technology in place, returns can become a point of retention.
Here are the best ways to keep returns customer-centric, so your best customers will keep coming back for more.
1. Offer easy-to-initiate returns
Help your customers help themselves. The less time they spend jumping through hoops to start a return, the better. Give them options that will make starting their return easier and pain-free whether it's online, in store, or with help from your customer service team.
Online Returns – Fast & Easy
An online self-service returns page is a must-have for a smooth customer experience in today's digital-first world. The returns page should make it easy for the customer to see how much will be returned for each item they're returning and allow them to provide feedback on the reason for the return. This allows you to collect data for your teams on why the return was initiated (sizing issue, doesn't match the description, etc.), while the customer feels heard airing any grievances. This return feedback can help you improve how you market products and prevent unnecessary returns in the future. (More on that later!)
Omnichannel Returns – Drive Upsell Opportunity (BORIS)
Did you know a quarter of US adults think the most frustrating part of the returns process is dropping their package off at a mail facility? If your customer is running errands near one of your stores, it might be easier for them to pop in and return the item in the store itself. In fact, 61% of online shoppers prefer to return their item in store (buy online, return in store or BORIS).
While the customer is in the store, store associates can offer an exchange or upsell for a similar product that meets the customers' needs. This is a win-win because no shipping costs are incurred, the sale is saved, and the customer is wow-ed by how well your brand understands them.
Customer Service – Encourage the Human Factor
Live chat, over the phone, or via email – there are so many ways customer service teams can help customers with returns. And a staggering 83% of US shoppers prefer to deal with humans, rather than digital channels, when it comes to customer service issues. Some people prefer human interaction during a return, whether they're upset and need to vent, or they want to see how an issue can be quickly corrected.

Train your customer service team to be empathetic with a customer-first approach and give them the tools they need – like ability to exchange items within an order, credit shipping, retrigger transactional emails, and easily return items – so their personal interactions run smoothly.
Once you've determined how you want customers to initiate returns, make it clear on your website, email confirmations, receipts, and packing slips where the customer can go to get the process started.
2. Communicate throughout every step in the process
Just like you give customers status updates (email confirmations, text alerts, etc.) after an order is placed, you should also give them status updates after a return is initiated.
The customer should have visibility into all data your team has access to – return tracking information, credit confirmation, reasons a return is rejected, etc. Transparency is key throughout the entire order lifecycle. Any transaction after a return is started should be displayed on an online customer account status page, so customers can easily see all return updates in one place.
3. Prevent future returns by analyzing return data
Collecting customer data for return reasons is critical for improving your product and reducing future returns overall. Whether a return is made online, in store, or with help from your customer service team, return reasons should be aggregated in your order management system and analyzed periodically to determine where change is needed.
For example, if everyone that returned their green sweater thought the image online looked forest green, but the sweater is really mint green, you should be able to see this trend through your return reasons and can update the photos to display a more accurate color. If your data shows everyone that returned their green sweater said it was itchy, a change in material for future products should be considered.
4. Make returns faster & more reliable with automation
Your customer deserves a fast and reliable returns experience, and if your customer service team is still processing returns manually one by one – the risk of human error and a slow returns process increase exponentially. With the right technology in place, you can automate just about every step of the returns process, so manual human intervention is limited to restocking. By automating your returns process, you reduce the amount of time your team spends processing returns and amplify the number of customers that will return after a smooth returns experience.
5. One brand, one return policy across channels
Make your return policy the same across all channels – a staggering 71% of consumers say they want a consistent experience across channels, but only 29% say they get it. Policies in-store and online should be the same so customers have the same experience no matter where they're shopping or returning. There's nothing more confusing – to both your customer service team and customer – than conflicting return policies for the same brand. Having one easy-to-understand return policy across all brand channels leaves one less friction point behind for an optimal experience.
Summary
While a great storefront experience attracts customers initially, customers won't become loyal if they have a poor experience returning an item. Thinking beyond your storefront experience – optimizing every touchpoint through the order lifecycle – is critical for long-term customer retention, even for your most loyal customers.
Looking for more information on returns? Check out ➡️ How an OMS Optimizes the Returns Process.