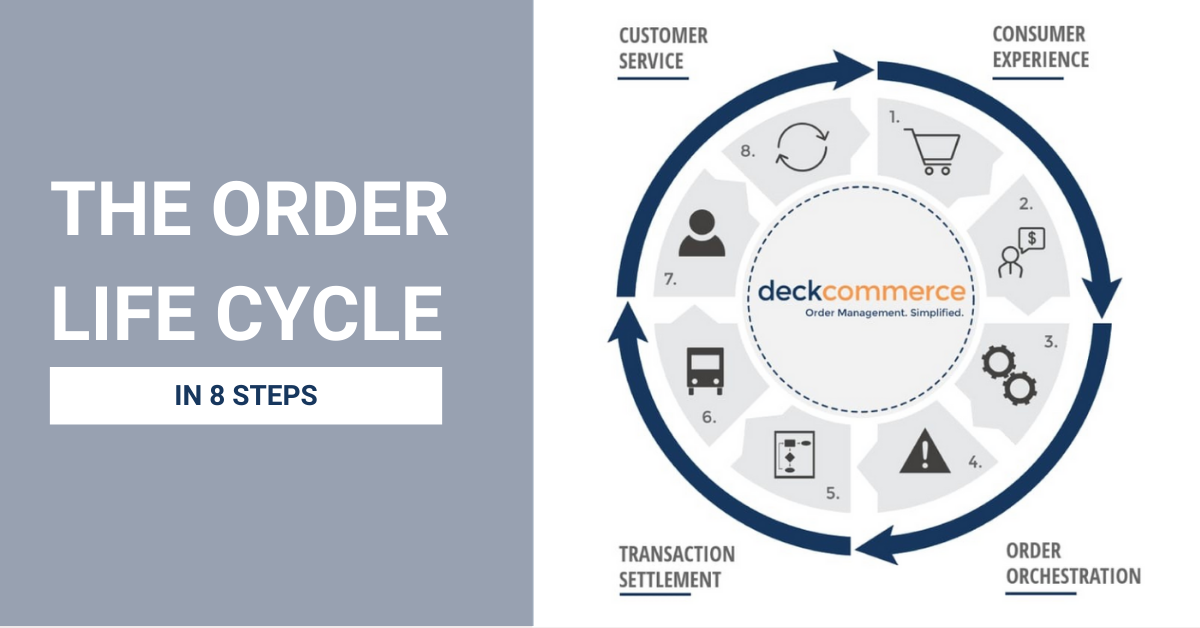 Since customer experience is a driving force for success in the competitive retail space, auditing your order management life cycle to ensure it achieves both customer experience and business operational goals is a must.
The retail industry has found itself in a whirlwind of change in recent years.
Economic fluctuations and rapidly evolving consumer behavior have posed unique challenges for retailers.
Understanding and planning for these shifts is crucial to appreciate the subsequent steps in the order management cycle.
Global Economic Shifts: The global economy isn't what it used to be. Factors like political instability, trade wars, and natural calamities have caused unpredictable market fluctuations. Retailers, especially those operating internationally, need to navigate these changes carefully, as they can directly affect product availability, pricing, and demand.
Consumer Behavior Evolution: With the rise of technology, the modern consumer is more informed and empowered. They expect a plethora of choices, speedy deliveries, and top-notch service. Meeting these rising expectations with limited resources is a significant challenge.
Supply Chain Complications: Global events, like the COVID-19 pandemic, showcased how fragile supply chains can be. Delays, disruptions, and increased costs have become challenges that retailers now need to account for and mitigate.
Omnichannel Fulfillment: The expansion of online shopping platforms is a double-edged sword. While it opens up a larger market, it also means brick-and-mortar stores are feeling the pressure. Balancing physical store operations while optimizing online channels is a tightrope walk.
Sustainability and Ethical Concerns: Modern consumers aren't just buying products but buying into values. Ethical production, sustainability, and corporate responsibility have become significant deciding factors in purchasing decisions. For retailers, this means reevaluating and sometimes overhauling sourcing, production, and delivery methods.
Increasing Operational Costs: Business costs are rising from rent and utilities to employee wages and technology upgrades. Retailers need solutions that cut costs without compromising on quality or customer experience.
Customer Order Cycles from Start to Finish
From clicking "add to cart" to processing a return, order management software (OMS) handles critical, behind-the-scene operations of your customer shopping experience.
What's most important when reviewing an order life cycle?
An order management solution must support an order throughout its entire life cycle and create a seamless experience for business users, like customer service representatives, and consumers alike. We identified 8 critical order management touch points from the initial consumer experience to customer service interactions.
These touch points should be reviewed for both operational efficiency and customer experience on a regular basis. If your business supports omnichannel purchases, remember to review the order management life cycle for orders fulfilled across multiple channels (i.e. buy online pick up in store).
---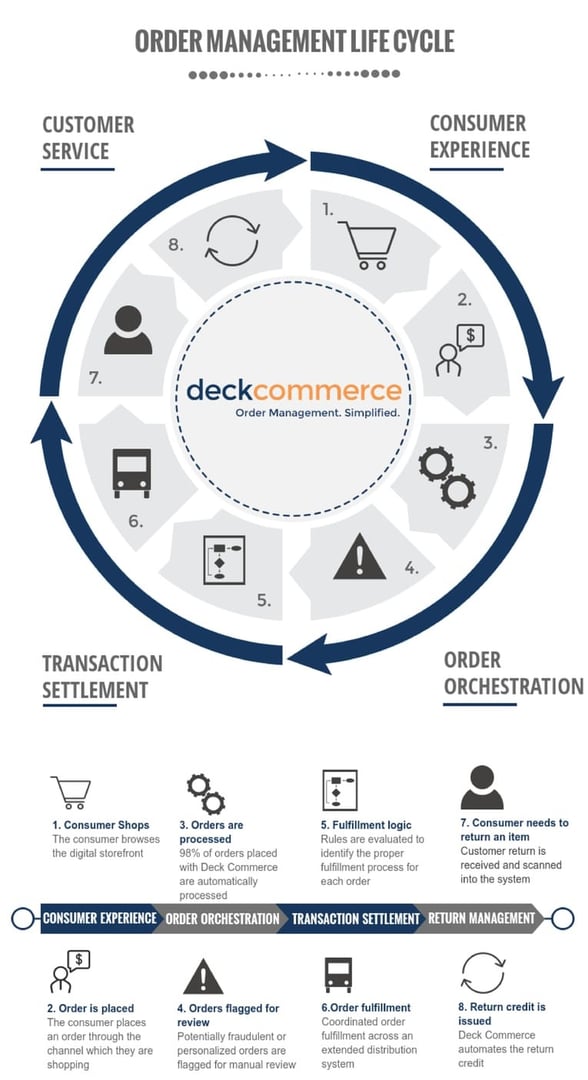 Eight Steps of the Order Lifecycle
Consumer Shops - The consumer browsers the digital storefront.
Order is Placed - The consumer places an order through the channel which they are shopping.
Orders are Processed - 98% of order placed with Deck Commerce are automatically processed.
Orders flagged for review - Potentially fraudulent or personalized orders are flagged for manual review
Fulfillment Logic - Rules are evaluated to identify the proper fulfillment process for each order.
Order Fulfillment - Coordinated order fulfillment across an extended distribution system.
Consumer Needs to Return an Item - Customer return is received and scanned into the system.
Return Credit is Issues - Deck Commerce automates the return credit.
How Deck Commerce OMS Streamlines the Order Life Cycle
The Order Management System isn't just a behind-the-scenes player; it's a pivotal component of modern retail and the key to optimized order lifecycle management.

By centralizing operations, optimizing order fulfillment processes, and leveraging data, systems like Deck Commerce's OMS ensure that in the fast-paced world of e-commerce, retailers and consumers come out on top.

1. Centralized Order Management
Unified Platform: An OMS consolidates orders from various channels, including online storefronts, physical shops, or direct sales. This centralization offers retailers a bird's-eye view of their operations and ensures that orders don't slip through the cracks.
Cross-Platform Sync: Systems like Deck Commerce synchronize inventory, pricing, and promotional data across different sales platforms. This ensures uniformity in customer experience, no matter where they choose to shop.
2. Real-Time Inventory Management
Instant Updates: An effective OMS updates inventory levels in real time as orders are placed, products are restocked, or returns are processed. This dynamic update prevents overselling and ensures that products listed as available truly are in stock.
Strategic Restocking: By analyzing sales trends, OMS can forecast when products might run out, helping retailers make timely restocking decisions and preventing potential revenue loss.
3. Enhanced Customer Experience
Transparent Delivery Estimates: Retailers can display estimated delivery dates directly on their storefront, setting clear expectations and reducing customer anxieties about delivery timelines.
Omnichannel Fulfillment Options: Through the system, retailers can showcase available inventory in real-time on their website, indicating what's accessible in-store. This empowers customers to decide whether to order online for home delivery or pick up their desired items at a nearby store, providing them convenience and choice.
Diverse Payment Acceptance:

Customers can choose their most convenient payment mode from traditional credit cards to gift cards and emerging options like "Buy Now, Pay Later" (BNPL). This flexibility not only enhances their shopping experience but also can lead to increased conversion rates for retailers.

Consistent Order Updates: With an OMS in place, retailers can send automated notifications at every step of the order process. Whether it's a message that their order is being fulfilled, a shipping confirmation, or updates on estimated delivery times, consistent touches ensure that customers are always aware of the status of their purchase.
4. Efficient Returns & Refunds
Automated Returns: An OMS simplifies the returns process by automating many of its aspects. From generating return labels to adjusting inventory once an item is returned, these systems ensure the return process is as smooth as the buying one.
Timely Refunds: By automating refund processes, OMS ensures that once a return is verified, the refund is issued promptly, bolstering customer trust and satisfaction.
5. Data Analytics & Insights
Performance Metrics: With an OMS, retailers can easily access detailed performance metrics, from best-selling products to peak shopping times. This data is invaluable for making informed decisions and refining business strategies.
Customer Insights: Beyond sales figures, OMSs offer insights into customer behavior. Understanding their audience's preferences, habits, and pain points allows retailers to enhance their offerings and marketing strategies.
6. Scalability & Flexibility
Growth-Ready: As businesses expand, their operations become more complex. An OMS like Deck Commerce is designed to scale, accommodating increased order volumes, additional sales channels, and expanded product lines without missing a beat.
Adaptable Framework: The retail landscape is ever-changing. A robust OMS offers the flexibility to adapt to new sales channels, payment methods, or shifts in market trends, ensuring businesses remain agile and customer-centric.
Plug & Play Integrations: Seamless integrations allow retailers to easily add sales channels, payment methods, new storefronts, and other technologies your business relies on.
Curious how an Order Management System provides support throughout the full order lifecycle? Read What Every Retailer Needs to Know About Order Management Systems (OMS).