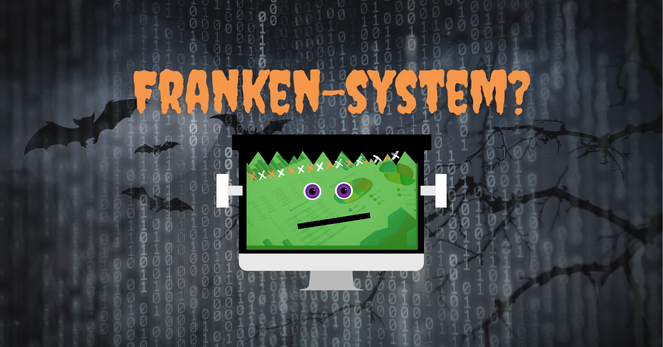 Your very own internal beast, a custom order management system, is ALIVE.
…but is it causing more harm than good?
Wasted engineering resources, poor customer experience, and an inability to scale – there are a lot of nightmares that come along with custom OMS tools stitched and bolted together to perform critical order management functions.

Connecting ERPs and WMSs to storefront tools with custom middleware can create a tech stack that has a mind of its own. But the scariest thing may be the sheer number of retailers that have (with good intention) built custom order management tools to make their technology "function" the way they envision it should, just to realize it's not feasible for the businesses' long-term goals.
If you've customized your internal tools to handle critical order management functions like fulfillment automation, inventory management, and transaction processing – don't worry. You can still take control back from the monster you've created. Here are three signs your internal IT team should sunset your custom order management system.
1. It's difficult to add, swap, or remove technology as quickly as your customers demand it
Your ecommerce marketing team notices a sharp decline in checkout conversions. Once they determine nothing is broken on the website, they realize you're losing customers to a competitor that offers more convenient payment methods. Some of your most loyal customers could become brand advocates for your competitor because they offered one-click payment and have a better overall online shopping experience. Now that's terrifying.
If you had a dedicated order management system (OMS) in place, you could add technology quickly to connect customers to your brand. You wouldn't have to submit tickets or requests to your IT team to make updates to your system and wait until it was an engineering priority. You'd be able to work with order management experts – whose sole focus – is simplifying seemingly complex concepts like adding, removing, or swapping technology to make your customer experience as easy and profitable as it can be. A dedicated order management system will have a long list of prebuilt integrations with the latest and greatest technology your customers expect.
2. No one knows exactly how your Franken-system was built
Colleagues come and go, but the technology powering the foundation of your business stays the same (until you decide to sunset it). Right when Victor, your IT mastermind, has everything set up and perfected, he decides to retire. The custom order management system he built is amazing…today.
When your customers' buying habits, your tech stack, and your operations change tomorrow, you will curse Victor for building something that isn't easy to change as your company evolves. When Victor left for Switzerland, his knowledge of the Franken-system he built went with him, and you're lucky if he answers your calls for help managing his brainchild.
3. You're constantly adding band-aids to your custom OMS (many with URGENT priority)
Quick – we need a hot fix for an issue we found during our Black Friday sale! Your IT team could be the best in the world, but since they don't solely focus on order management, they may not have thought through each and every scenario that needs to be considered before pushing out updates. And even if they did, it may not be as easy as you'd need it to be to switch on.

Reactively adding band-aids instead of proactively implementing order management best practices leaves no winners. A dedicated order management system will have prebuilt workflows that automate both simple and complex business requirements, without breaking critical functions. Prebuilt workflows allow you to change technology quicker and with less risk than a custom solution.
Beware the Custom OMS Franken-system
If you're reading this, you may have built a monster yourself. (Don't worry, it happens to the best of us.) But you don't have to let it take you to the grave.
Deconstructing and sunsetting your Franken-system and implementing a dedicated OMS may seem costly and overwhelming, but it doesn't have to be. Many dedicated order management systems are intentionally built to not be a heavy IT project.
Plus, with your new OMS, your company will save on engineering resources, enable an outstanding customer experience, and allow you to scale in the long run. The longer you feed the custom Franken-system, the longer it will live to haunt you.
If you need help evaluating your current tech stack, sunsetting your custom order management system, or implementing a scalable order management system, we'd love to talk to you.