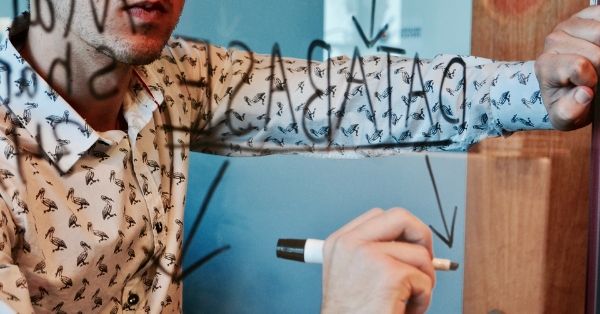 Although the majority of standard ecommerce merchandising follows an easy, linear path from purchase through fulfillment, processing more complicated items can have you feeling perplexed on a twisted yellow brick road.
Alcohol, Trademarks, and Teddy Bears – Oh My!
Laws, regulations and business rules mandate advanced order flows. Although defining that logic and process upfront can appear burdensome, retailers who execute advanced order flows are able to provide differentiated products and, ultimately, distinguished customer experiences to compete with retail giants like Amazon.
A distributed Order Management Solution (OMS) works with your storefront channels and back-end systems to act like a wonderful wizard puppeteering unique order workflow automation. As the leading, singularly-focused OMS, we at Deck Commerce have seen and solved some extraordinary scenarios.
Here's a look at three of our favorite order flow use cases we've automated for our customers.
Online Wine Sales
We're not [just] in Kansas anymore. One of Deck Commerce's customers specializes in online wine sales, targeting consumers in all 48 continental United States.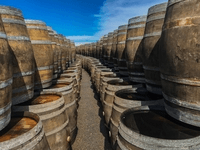 And guess what: each state has its own rules for online liquor sales. (And, yes, Kansas' are among the strictest!)
To ensure no laws are ever breached or loopholes exposed, we built an integration with Shipcompliant by Sovos, who specializes in alcohol sales compliance. Shipcompliant manages the customer verification on the front-end – including age, address and quantity limitations – and continues to communicate with our order management system through fulfillment. This ensures the correct tax rates are collected/refunded and that customers cannot call in to Customer Service with address changes that would result in the order infringing upon any industry or government regulations.
Custom Apparel Workflows
Online, it's all too easy to be duped by customers hiding behind a curtain, claiming to be someone they are not. One of our customers offers customized sporting gear to athletes and fans. Part of that customization includes the option for an inscription, which the consumer enters during the order process in the shopping cart. But it falls on the responsibility of our customer to never infringe upon trademark and copyright laws. Additionally, the sporting gear brand doesn't want any profanity to appear on its products.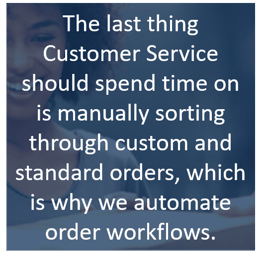 To combat this customization contingency, Deck Commerce flags and routes all custom orders to a dedicated review folder within OMS for the brand's customer service team to approve (or reject) the desired name or phrase. This ensures a customized product never reaches production or fulfillment without the business's seal of approval first. The last thing your Customer Service team should spend their time on is manually sorting through custom and standard orders, which is why our order management system automates those workflows.

Kits & Bundles
Another of our Deck Commerce customers is a teddy bear and stuffed animal retailer. Although all their products have unique SKUs and are available to be purchased individually online, the company occasionally offers special "bundles" (or "kits") at a discounted rate for the full set. For example, a teddy bear and its accessories can be sold as a bundle which could include a matching shirt, pants and pajamas. The immediate use case that arose was "what do we do when a customer tries to return only part of the bundle?"
Deck Commerce's kits and bundles workflows allow designated orders to flow into OMS as a unique,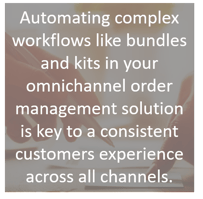 singular SKU with the full dollar amount, while still listing the individual SKUs of the kit's components as $0 amounts. This ensures that inventory levels across channels are updated accurately with every order, the warehouse can properly pick and fulfill the order, and that customers can only return the entire set for a refund. Automating complex workflows like bundles and kits in your omnichannel order management solution is key to a consistent customers experience across all channels.
Choosing the Right Companion
Whether you're getting into direct-to-consumer ecommerce for the first time or have been on this path for a while now, choosing the right technology companions for the journey ahead is imperative.
Look for a partner (here are our recommendations) who can help you get started quickly and help you grow and adapt. Deck Commerce is a partner that already has the brains, heart, and courage to get you feeling at home in the world of unified, omnichannel commerce.