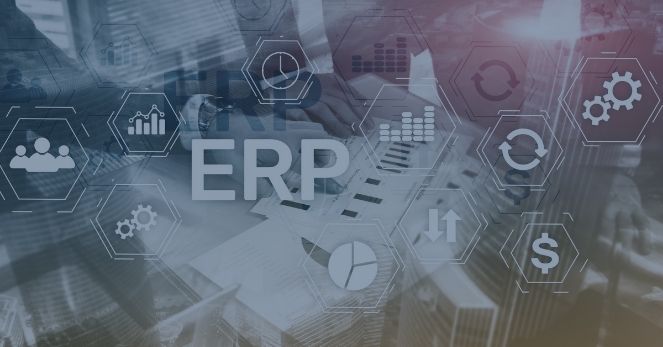 The term order management has become more commonplace for retailers. With the acceleration of direct-to-consumer, many brands are looking for order management options and perhaps consider using their enterprise resource planner (ERP).
But can an ERP serve as an effective order management system (OMS)?
The "Intent" of ERPs
The ERP began as a system to manage manufacturing processes. In fact, the original software was called Material Requirements Planning (MRP) and was used primarily to manage production scheduling and raw-material inventory.
Eventually, the software expanded to cover more areas of day-to-day business including accounting, finance, operations, and customer relationship management. In the 1990s, Gartner coined the term enterprise resource planning (ERP) to differentiate traditional manufacturing planning systems (MRP) from more expansive technology, now known as ERP systems.
The spirit behind the ERP is to provide a centralized, integrated database and information across a wide variety of functions at a company.
The Limitations of Retail Order Management in ERP Software
With the ongoing expansion of ERPs, many retailers have leveraged functionality from their ERP system to manage at least one aspect of their sales and marketing processes.

However, because ERPs were built primarily for the manufacturing stage of the supply chain versus sales and order fulfillment—they often leave requirement gaps for retailers trying to streamline and optimize their brand experience.
"ERPs often leave requirement gaps for retailers trying to streamline and optimize their brand experience."
In other words, the ERP can do many things for your business, but it doesn't mean that it will do all things the best way. Even Gartner notes that "although enterprise resource planning (ERP) vendors offer numerous enterprise applications and claim that their integrated system is a superior solution, all modules in an ERP system are rarely best-of-breed."
On a recent webinar on order management, an analyst at Forrester notes, "the ERP is in the back-office. It's not digital. It's not flexible. It's not quick"
If you are going to remodel your bathroom, you might be able to have a handyman run your plumbing— but wouldn't it be better to hire a plumber instead and avoid a messy situation?
Why OMS is Critical for Retailers
Order management is the facilitation of all retail order data and processes—from storefront to front door. Therefore, an order management system (OMS) should automate the receiving, routing, fulfilling, tracking, notifying, and potentially returning/exchanging of orders.

An OMS is essentially the "brain" behind your sales processes—coordinating the functions of your customer-facing channels with your back-end systems like an ERP and business intelligence (BI) tools.

Because order management involves how customers purchase and receive your products— it is a key driver behind your brand experience. And given that almost half of consumers won't buy from a brand again if they have a poor experience—order management is vital to customer acquisition and retention.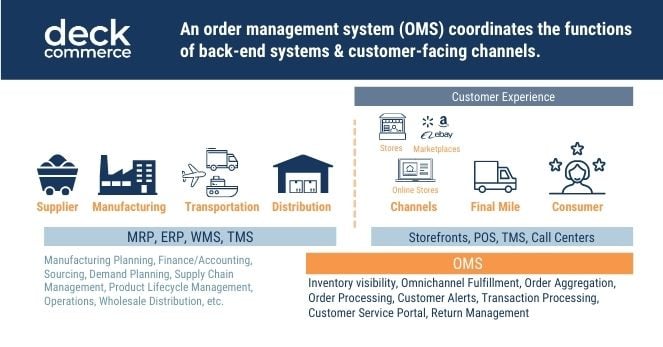 When to Use an ERP as an OMS
Over the last decade, many ERP systems have added "tack on" order management capabilities to their flagship products. For small-volume retailers with a less complex distribution network, a tack-on approach might sufficiently meet most business requirements either through standard capabilities or custom workarounds.

This approach can be cheaper initially, as many ERP systems can offer bundle pricing. Additionally, this approach does lead to a simpler technology stack, and leaves fewer vendors responsible for potential security breaches, downtime, and miscellaneous errors.
Challenges of Using an ERP as an Order Management System
While leveraging an ERP may be sufficient for some brands, it doesn't come without challenges for retailers.
Costly in the Long Run
ERPs are expensive to implement. And while an initial bundled price for order management may seem cost effective, often times retailers spend more money in the long-run customizing (and then customizing again) the system to meet their business needs.

Additionally, not having innovative order management capabilities (omnichannel, advanced routing, multiple payment options, automation, loyalty, etc.) may lead to a loss of sales by not being able to meet customer expectations.
Complicated to Manage
Often times when ERPs are used as an order management system, it involves a high level of customization which can lead to a complicated "Franken-system." Even something as simple as data formatting between systems becomes tricky and time-consuming to ensure that changing one thing doesn't break another.

Without a robust order management system (OMS) it takes more time and dedicated IT resources (sometimes an entire team) to ensure the reliability of an ERP used for managing orders. Morphing a tack-on tool into what your brand needs is costly, in time, money, and internal resources.
Difficult to Meet Customer Expectations
Customer expectations are continually evolving. Brands that stay two-steps ahead of the curve are the brands gaining market share.

For example, brands that have multiple ways for customers to pay (Apple Pay, Venmo, PayPal, etc.) or even offer delayed payments —increase their likelihood of acquiring (and retaining) customers by way of convenience.
Risk to the SOR for Financials
While ERPs can be customized, most companies shy away from making too many changes to their ERP system, as it is generally the source of record (SOR) for finance teams.
Inevitably, to use your ERP as a direct-to-consumer order management system would require significant customization, and therefore can impact data integrity if something goes awry.
Difficult to Add New Capabilities & Technologies
One of the biggest challenges to leveraging an ERP as an OMS, is the difficulty of adding (or replacing) other tools within your technology stack. Your brand may decide to:
Offer multiple payment types
Implement a new loyalty program or subscription service
Expand into additional sales channels and marketplaces
Switch fraud vendors (Cybersource, Sygnified, Kount, etc.)
Implement omnichannel capabilities (I.e. BOPIS or curbside pickup)
Update an order automation based on product type
Update an upstream / downstream system
All of these decisions cost significant time, money, and effort when using an ERP— versus a dedicated OMS that uses an API-framework and is system agnostic.

ERP vs. OMS

Feature/Functionality

ERP

OMS

Finance/Accounting

✓

Inventory Management

✓

✓

Materials Sourcing

✓

Order Aggregation

✓

Demand Planning

✓

Omnichannel Fulfillment

✓

Manufacturing

✓

Advanced Routing Logic & DOM

✓

Product Lifecycle Management

✓

Exception Management

✓

Human Resources

✓

Transaction Processing

✓

Supply Chain Operations

✓

Order Servicing

✓

Wholesale Distribution

✓

Return Management

✓
OMS vs. ERP: The Complementary Relationship
A dedicated order management system (OMS) complements the functionality of your ERP. It serves as the single source of truth for order and real-time fulfillment data, while remaining agnostic enough to easily integrate and/or communicate with your other critical systems.
A dedicated order management system (OMS) complements the functionality of your ERP.
Additionally, the hyper-focused subject matter expertise of an order management system (OMS) gives retailers a competitive advantage against more generic systems not built for purpose.
Options for Order Management
Order management systems are not "one size fits all" so it is important to assess your retail business before deciding what option would be best.
Not sure which direction to go? Check out the pros and cons of each option.
Graduate From Order Management ERP Systems
The best ERP order management software doesn't live in your ERP - it's a dedicated OMS that integrates with your existing systems. While ERP systems offer comprehensive functionalities spanning multiple business domains, they aren't explicitly designed for intricate order management dynamics.

A specialized OMS, like Deck Commerce, is designed from the ground up to manage, streamline, and optimize order processes.

By letting their technology focus on what it does best, brands can leverage the best of both worlds.

ERPs are vital systems for retailers. But when it comes to order management, it is often best to select a system built for purpose, and intentionally focused on making every customer your best customer.