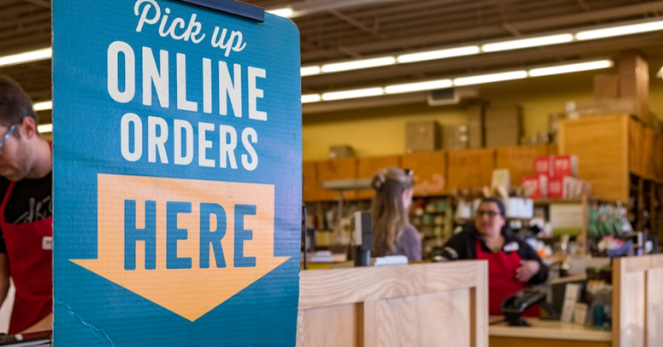 What is BOPIS? (Buy Online Pickup in Store)?
BOPIS, which stands for "Buy Online, Pickup In-Store," is a retail model that blends the convenience of online shopping with the immediacy of traditional brick-and-mortar stores.

Powered by BOPIS technology, customers can browse and purchase items online and then pick up their orders at a local store, often within the same day.

This BOPIS delivery model offers various advantages for both consumers and retailers.

The Demand Surge for BOPIS Solutions
BOPIS surged in popularity as a direct response to the challenges posed by the COVID-19 pandemic. What began as a necessary adaptation for safe and contactless shopping quickly evolved into a preferred method of commerce.

Even as the world has adapted to post-pandemic realities, the convenience, speed, and efficiency of BOPIS have firmly cemented its place in the retail landscape.
Additional factors driving the demand for BOPIS Fulfillment:
Shipping Delays:

The pandemic disrupted global supply chains, leading to longer delivery times for many online orders. BOPIS became a way to circumvent these delays, offering customers faster access to their purchases.

Evolving Customer Expectations:

Modern consumers value convenience. The ability to seamlessly integrate online browsing with in-store pickup caters to the desire for a fast and efficient shopping experience. A BOPIS system bridges this gap, giving consumers the immediacy of in-store shopping with a vast choice of online catalogs.

Distribution center logistics:

Many centers — perhaps even most — weren't prepared for the surge in order fulfillment needs. They've struggled to gain their footing, establish new workflows, and run smoothly.

Reduced Carbon Footprint: BOPIS can lead to fewer delivery trucks on the road, especially if consumers pick up items while running other errands. This can reduce emissions and traffic, appealing to environmentally conscious consumers.
Technological Advancements: The rise of mobile shopping apps has made it even more convenient for consumers to place orders on-the-go and then pick them up in-store.With the advent of sophisticated retail management systems, integrating online and in-store operations has become smoother. This technological evolution has made BOPIS implementations easier than ever.

Amazon itself:

The behemoth's distribution center accounted for

half of the total ecommerce volume

, as of April 2020. For a spell, it would

only deliver essential items

in some countries, regardless of inventory, so Amazon sellers sought other places to ship their products.
Not keen to put stock in delivery dates that keep stretching out, more consumers are clicking to purchase and then collecting their items from the store.
In fact, it's estimated that 10% of all sales will be fulfilled via click-and-collect by 2025.
What is BOPIS in eCommerce?
No, no, BOPIS. It stands for buy online pick up in store: You click to purchase a product online then collect it inside the brick and mortar.
BOPIS and its counterparts — curbside pickup, reserve online pickup in store, buy online return in store — weren't foreign to consumers pre-pandemic, but the need to socially distance certainly popularized these shopping options.
Part of the popularity lies in merging online shopping with store experiences, so consumers can take advantage of leisurely browsing (who among us doesn't have a phone in bed?) and then still experience a glimmer of in-store intoxication upon pickup.
Challenges of BOPIS
BOPIS' ease for consumers (not discounting the dopamine rush) challenges retailers, who first must even have a brick and mortar. Yet it takes more than a storefront to bypass online delivery issues.
Other BOPIS hurdles include:
Inventory allocation:

Brands need to be able to appropriately allocate inventory to stores and warehouses.

Accurate store inventory:

Customers must be easily able to see what's available at their local store so they know what's in stock. That might mean

sophisticated technology is needed to sync online and physical inventory.

Higher customer volume:

By making inventory available for online shoppers to pick up within their store, companies should know they'll be serving a higher volume of shoppers.

Available fulfillment staff:

We see many stores hire more workers during the holiday season to accommodate increased store traffic, but now,

all the time

is high-volume time. Staff must be available to fulfill each order by the time the customer arrives to pick it up.

Pickup station:

These BOPIS orders have to be stored somewhere in the store, so an accessible location needs to be established.

Transaction charges from payment gateways:

There's a charge to take a purchased item off the shelf, then a credit issued if the customer doesn't pick up the item. Both get dinged for transaction fees, so this can be costly for the retailer.
BOPIS Benefits & The Impact on Retailers
The challenges with BOPIS aren't to say they're a non-starter for retailers. In fact, on both sides of the purchase exist major advantages.
For customers:
Save on shipping costs:

There's no charge for customers to collect their items from the store.





Retailer story:

Kohl's

makes BOPIS all the more appealing when shipping requires a purchase total minimum and Free Store Pickup fulfills items within an hour. There's even a designated Store Pickup parking spot to prioritize these customers.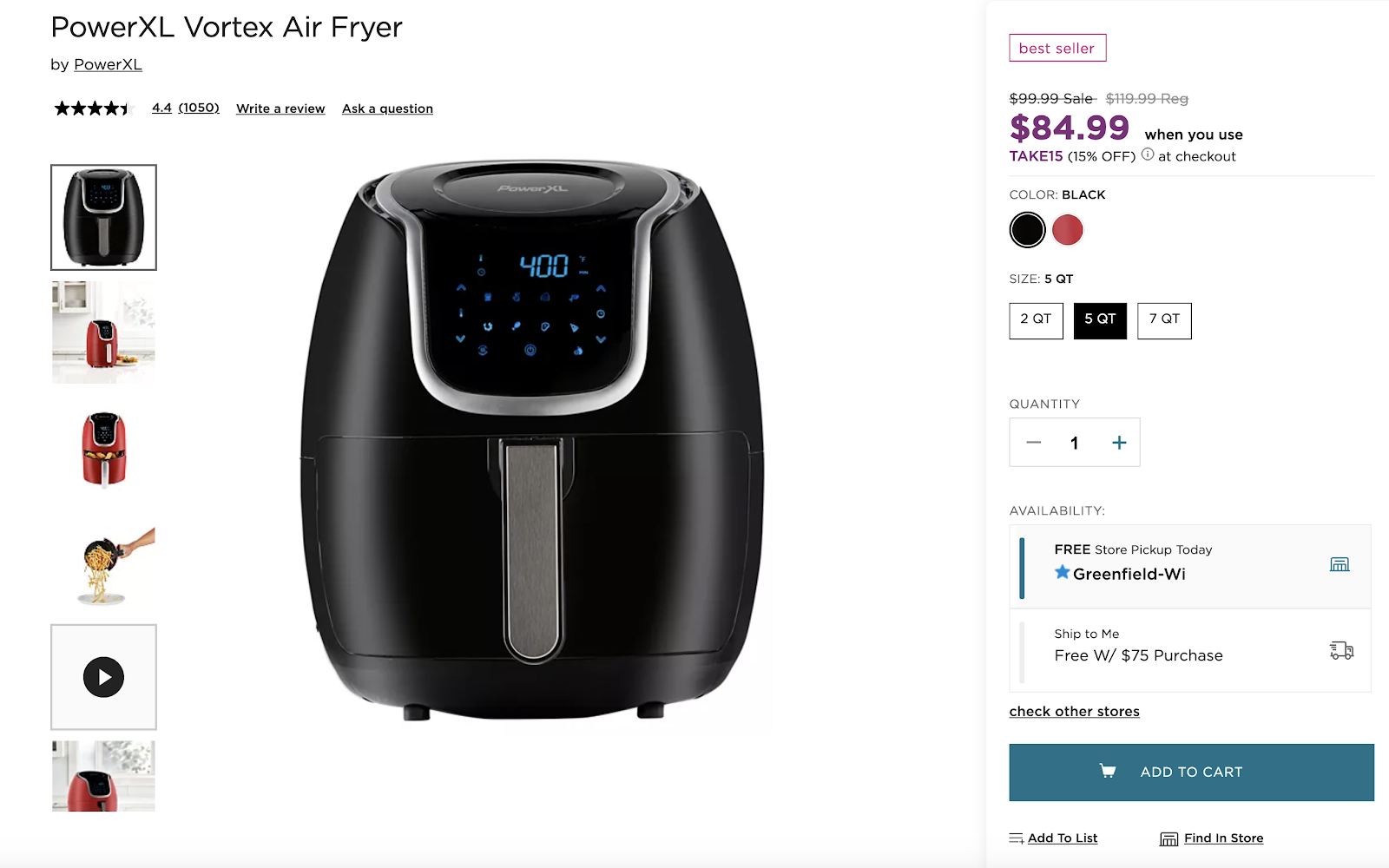 Super fast:

Customers can sometimes pick up their order on the same day, in one to two hours.





Retailer story:

Target

's got this on lock, advertising a typical two-hour fulfillment. Although they've offered order pickup for years, they've seen major growth, attributable to BOPIS investments, during the pandemic. In-store pickup has gone up 60%, with overall same-day fulfillment (BOPIS and curbside) increasing by a combined 273%.




Hybrid convenience:

If you forgot to add a product to your online cart, you can easily pick it up while at the store retrieving the rest of your order. (

75% of past BOPIS users

say they're likely to make another purchase while in the store.) Or, ask a sales associate in person any questions you have about your purchase. It's a hybrid experience of online shopping and a traditional retail service.



Retailer story:

One little trick

for getting the most out of

Bath & Body Works

' online sales is by placing the order online and then selecting Pick Up in Store. (Not all locations offer online order pickup.)




Safety:

Products are kept secure at the store, while home delivery means your package could be sitting on your porch while you aren't home.

Immediate return:

Customers can return an item right away if they change their mind once they see it in person.
For retailers:
Encourages local shopping:

By picking up locally, customers are supporting the local economy and patronizing local stores.

Increases store foot traffic:

As long as you're here … buy more! Getting more bodies in the store encourages additional shopping.

49% of shoppers

snag more items while there for their pickup.

Ups the store revenue:

When customers are allowed to buy online via the company's ecommerce channel, the revenue is still attributed to the store. (Looking for more ways to increase store revenue?

Check out this blog

.)



Retailer story:

Last year,

Build-a-Bear Workshop

launched the Bear Builder 3D Workshop, which guides customers through the dynamic process of building a toy (stuffing, clothing, accessorizing). To finalize the transaction, customers can pick up their creation inside a local store. The company has seen

big revenue leaps

during the pandemic.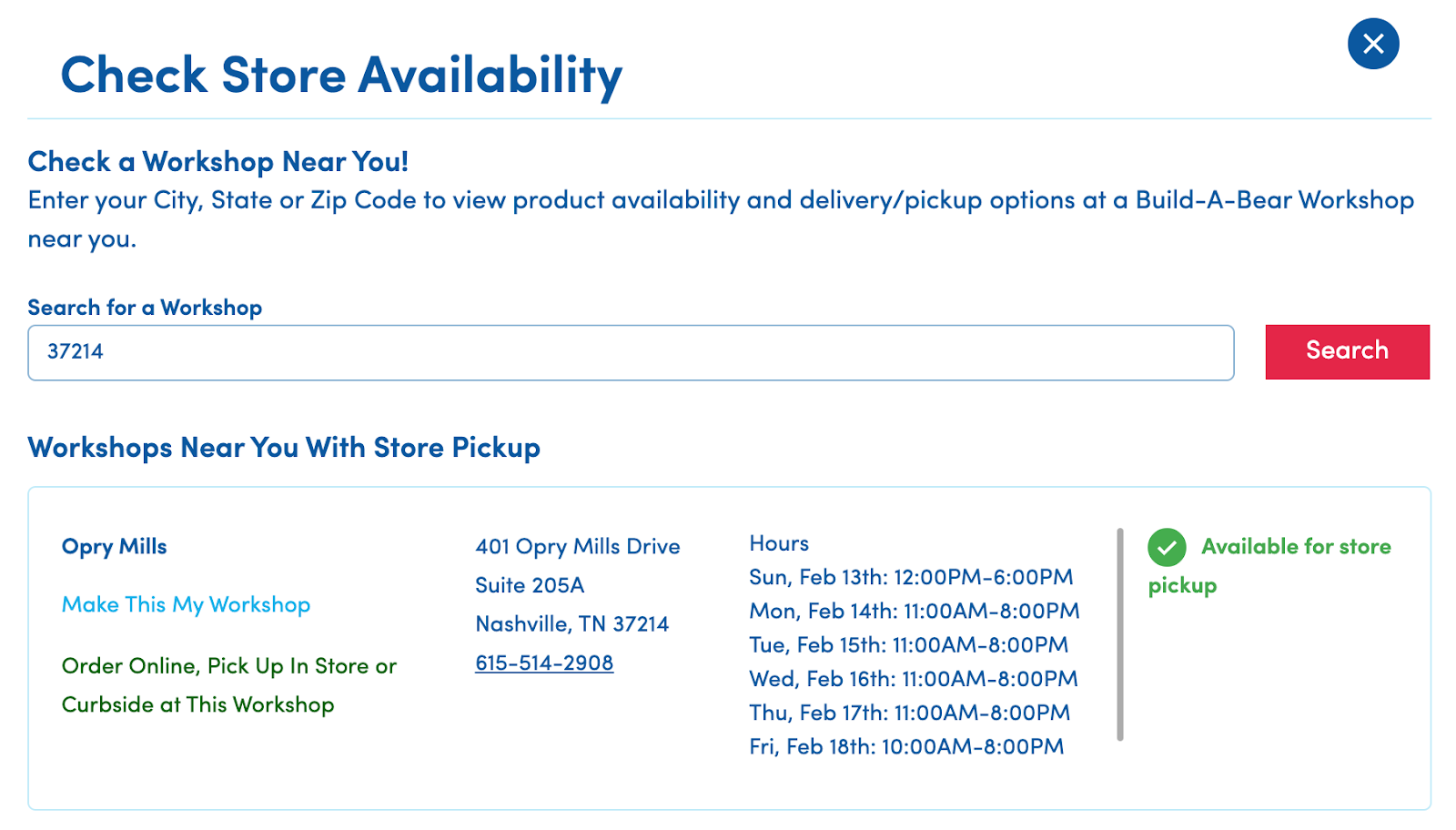 Extended sale deadlines:

Whereas shipping means cutoff dates — such as needing to place your order by Dec. 10 to ensure delivery by Christmas — retailers can still drive people to their storefront and continue to push promotional messages up until the big day.

Optimize real estate investment:

If foot traffic is down, BOPIS can supplement sales to ensure retailers are getting the most out of their real estate investment. In this way, BOPIS was key during lockdowns, when many brands could no longer afford their retail space. Some retail giants — like J.C. Penney and Neiman Marcus — were

forced into bankruptcy

.

Volume stabilization:

Allocating inventory to local stores spreads out the volume from ecommerce orders, putting less of a stress on those overwhelmed warehouses.

Optimize the final mile:

Since the consumer is picking up their order, companies save on last mile costs with BOPIS 'shipping'.

Have an edge on Amazon:

Right as many retailers were starting to think they couldn't compete with Amazon's short delivery fulfillment, shipping delays give local stores a competitive advantage. Plus, shoppers don't have to wait days for their product but can simply drive to the store and have their order ready for pickup within hours.



Retailer story:

Not all

Yankee Candle

stores offer BOPIS, but for select outposts, team members fulfill online orders as soon as possible for in-store pickup. Customers receive a Ready for Pickup confirmation email once their order is, well, ready to be picked up. They then have seven days before the order is returned to store inventory.




Encourage exchanges instead of returns:

If a customer decides to return their purchased item right away, sales associates can encourage an exchange instead. This means the retailer doesn't lose the revenue they normally would when a shopper opts to make a return and be done with it over waiting for a replacement item.
BOPIS has staying power
There's no doubt that the BOPIS model is here to stay. With the convenience, immediacy, and savings it offers to customers and retailers alike, it'll soon be the way retailers stay competitive with their counterparts — 31.6% of surveyed retailers say it's their main business driver for offering this fulfillment option.
Since BOPIS blends a retailer's digital and physical channels it's vital that retailers have a purpose-built order management system in place to ensure a seamless shopping experience.
Ready to implement BOPIS or curbside pickup? See how an OMS can automate workflows.