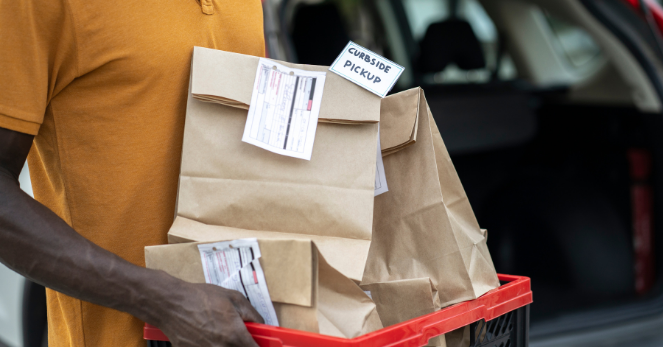 According to the 2023 Global Digital Shopping Index, nearly one-third of US consumers (roughly 16 million people) who recently made an online purchase picked it up in-store or curbside—a 37% year-over-year increase and Business Insider predicts it will continue to sustain double-digit growth rates through 2024.
With delivery mishaps, shipping charges, wait times, and return fees, there was an 11% drop in online home delivery volumes in 2022. And while home delivery is still the most common way consumers receive their online orders, PYMTS research found that "U.S. consumers' demand for curbside pickup options has been growing even faster, as 18% of U.S. eCommerce shoppers picked up their most recent purchase via curbside in 2022, which is 66% higher in a year-over-year comparison."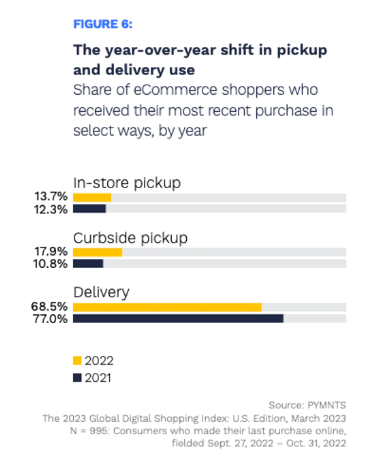 This article covers everything retailers need to know about implementing curbside pickup and the software solutions used to create a seamless curbside experience.
Table of Contents
What is curbside pickup

The process of curbside pickup

Challenges of curbside pickup

Benefits of curbside pickup

What do retailers need to implement curbside pickup?
What is Curbside Pickup?
Curbside pickup (or buy online pick up at curb aka BOPAC) allows customers to order and pay for a product online and pick it up at a retail store, warehouse, or other pickup location without having to leave their car. They simply drive up to the location and a staff member brings the order out to the customer. Curbside pickup redefines the traditional final mile by providing a contactless fulfillment option that is cost-effective and convenient for both the customer and the retailer.
In 2019, less than seven percent of top retail brands offered curbside pickup. By August of 2020, that number increased to 50% of top retailers —with 75% of those saying they will keep offering curbside pickup post-covid. What started as a necessity during the pandemic became a new normal for buyers with 85% of shoppers increasing their use of curbside pickup in the last year.
Curbside Pickup vs. BOPIS
Curbside pickup and buy online pick up in store (BOPIS) fall under the omnichannel or "click and collect" fulfillment umbrella. BOPIS allows shoppers to pick their item up in a designated location within the store (hopefully encouraging additional purchases) while curbside pickup allows shoppers to receive their item from the comfort of their car.
The Process of Curbside Pickup
Customer visits website and places an order.

Customer selects "Curbside Pickup" as their delivery method at their local store and tells the store who is picking up the order.

Associates at the local store receive the order and pick/pack the items.

Customer receives a notification (via email or SMS) that their order is ready to be picked up.

Customer drives to the local store and parks in the designated "Curbside Pickup" area.

Customer alerts the store they have arrived (via an app or text message).

Associate brings the order out to the customer's car.
While the process of curbside pickup seems simple, there are a lot of moving pieces that happen on the back end to ensure a seamless customer experience on the front end.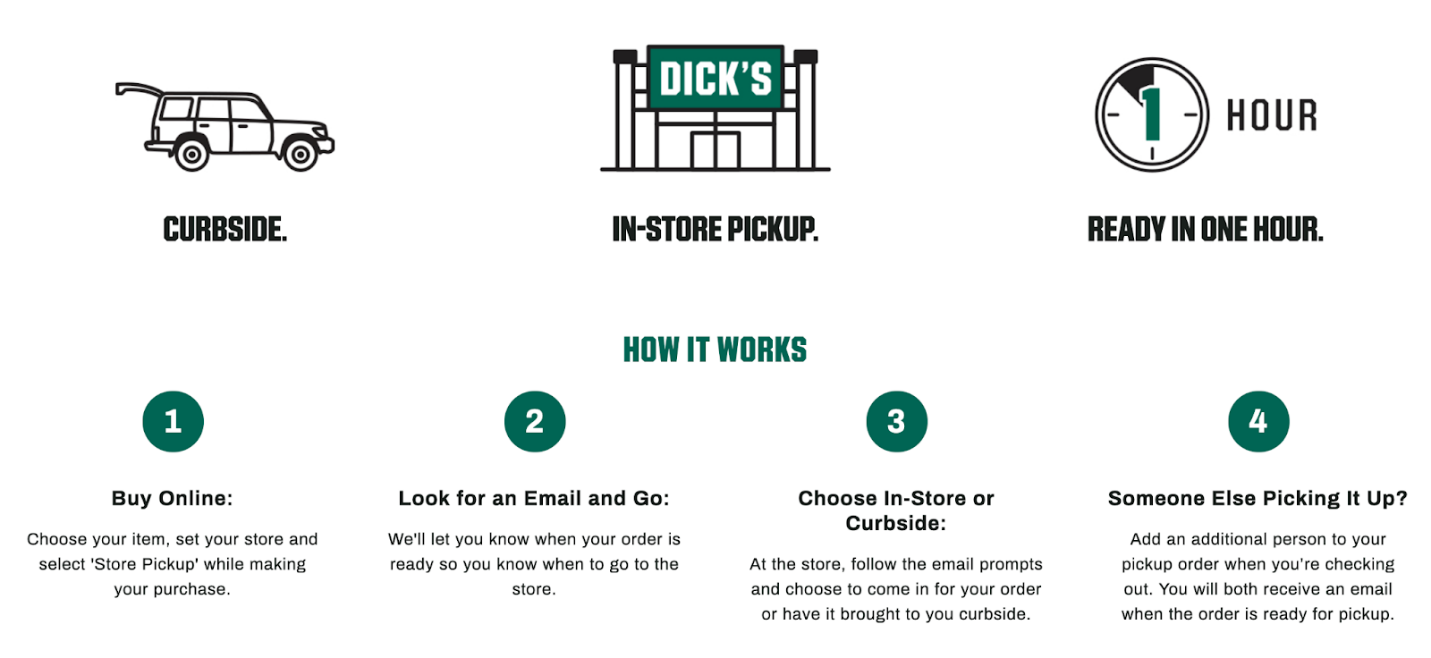 Dick's Sporting Goods curbside pickup instructions clearly explain how the process works.
Challenges of Curbside Pickup
As with adding any new channel, there are challenges retailers need to be aware of when implementing curbside pickup.
Inventory Management
Inaccurate inventory can have a negative impact on both the customer and the retailer. Consumers don't want to waste their time driving to the store only to find out their item is out of stock. And retailers need real-time visibility into their inventory to prevent stockouts on curbside orders.
Here are some scenarios brands should consider when it comes to inventory:
What happens if the last item is purchased in store while it is also in someone's online cart? How will you notify the online shopper?

How will store associates know what inventory is allocated for click and collect shoppers (BOPIS or curbside pickup) vs inventory allocated for in-store shoppers?

Do you have

the right technology in place to give customers real-time visibility

into store inventory numbers on your website?

How accurate is your store inventory overall?

What is the current inventory management processes for stores and/or warehouses? How often are inventory checks completed?
Allocating Resources
While curbside pickup sounds simple, adding a new fulfillment methodology means adding new processes, people, and technology—which takes setup time.
It requires allocating (and training) designated staff to pick the orders, monitor when customers arrive, and deliver the order out to the customer's car. What equipment will these associates be using? Handheld devices? An iPad?
Retailers also need a dedicated location (both inside and outside) for curbside pickup orders and appropriate signage.
Where in the store will curbside pickup orders be stored before the customer arrives? How long will the orders be held? Where will customers pick up their order? Are there dedicated parking spots or a large enough curb space (even during peak times)? What is the plan for orders not picked up in the designated window?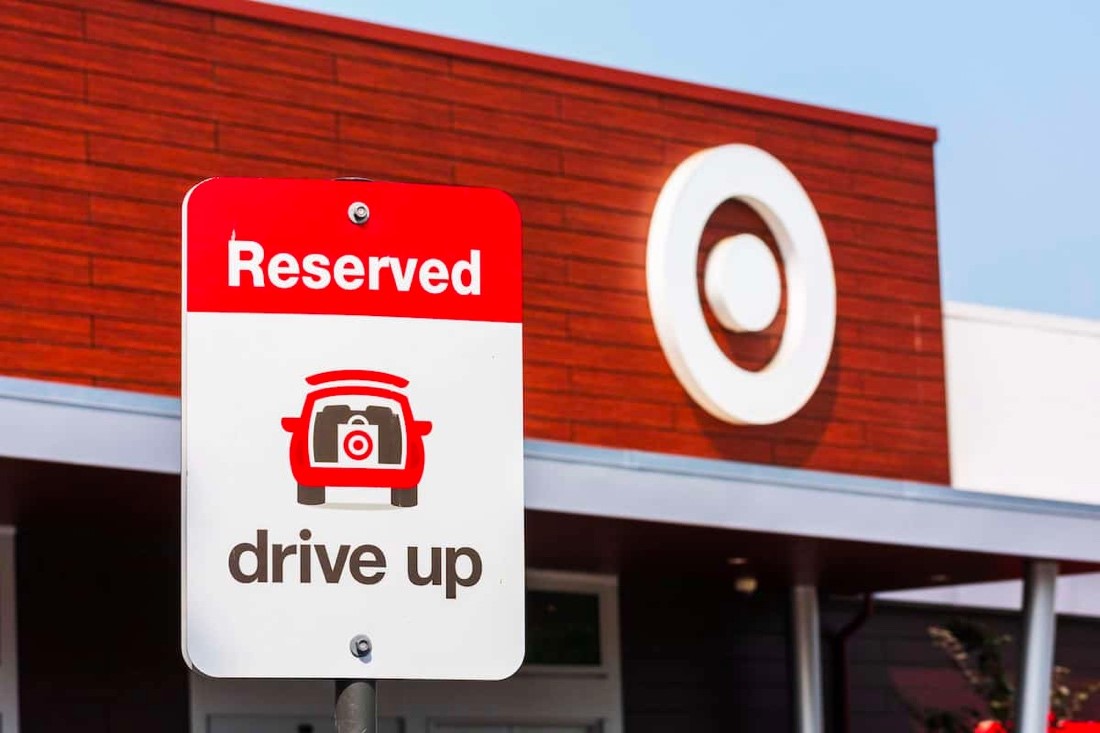 Need a way to keep track of all these to-dos? We've got you covered. Download the Curbside Checklist to ensure you're not missing a step.
High Customer Expectations
Customer demands are higher than ever. Over the past few years, retailers needed to innovate to survive and some of these innovations—like curbside pickup—are here to stay. Curbside customers expect their order to be ready at the time they select (some in as little as one hour).
The worst thing a retailer can do is make a curbside customer wait an exorbitant amount of time for their order. Not only can this have a ripple effect and slow down the entire process (i.e. all curbside orders being delayed), but it can also severely damage brand loyalty. Customers select curbside pickup for convenience, and they expect brands who offer the service to deliver on their promises.
Decreases Impulse Buying
Traditionally, retailers focus on getting "foot traffic" in their retail stores. Offering curbside pickup (vs. only BOPIS) means that the customer doesn't need to step foot in the store to pick up their order—potentially cannibalizing their store traffic goals. While curbside pickup may be a benefit for the shopper, it prevents the retailer from potentially making an additional sale.
When customers enter a physical store, there is a higher likelihood of an impulse buy. How can retailers incentivize curbside pickup customers to make that additional purchase they may have made if they entered the store? For example, retailers can offer a coupon for an in-store purchase, offer a discount on online orders to encourage additional purchases, etc.
Benefits of Curbside Pickup for Customers, Employees, and Stores
Curbside pickup boomed when it became one of the only fulfillment channels available to retailers during the pandemic. However, the benefits of curbside pickup quickly surpassed the mere necessity of the service. That's why seventy-seven percent of retailers dedicated more store space to curbside and BOPIS in 2022.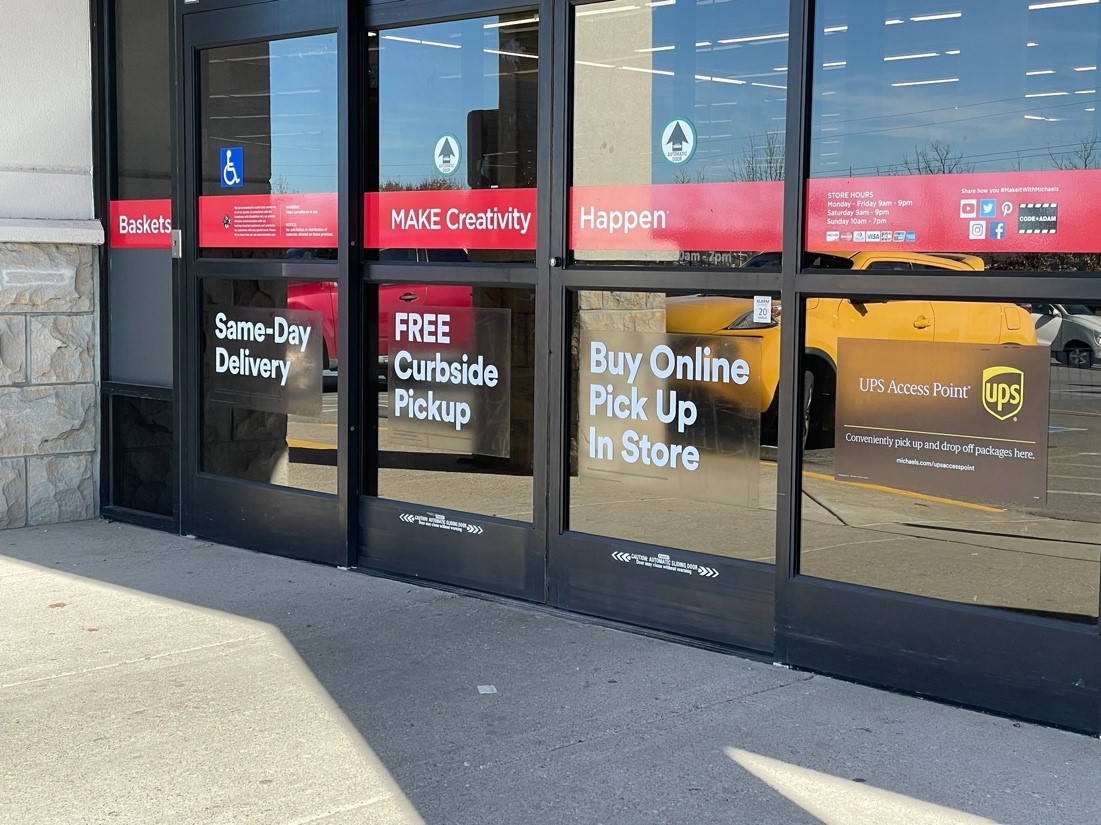 Improve Customer Experience
Customers love curbside pickup because it provides them with an alternative way to get their products—without some of the headaches of "waiting in line."
In an omnichannel world, convenience is king. Here are the top benefits of curbside pickup for consumers:
Speed:

Curbside pickup can be a faster, more reliable way to get their items (this became clutch when items were stuck in container ships at sea).

Cost efficiency: The final mile is the most expensive "leg" of the supply chain, so adding alternative ways to deliver a product without taking on shipping costs can provide significant savings for brands.

Convenience:

Curbside pickup is perfect for those swinging by on their way home from work, or for those who have a car full of children and don't want to leave their car.

Customer saves money:

Customers don't have to pay for shipping if they are picking it up at the store.

Safety:

This was the biggest selling point of curbside during the pandemic when social distancing was a top priority. Customers can still get their products from the safety of their vehicle.

Avoiding Crowds

: The convenience of store pickup for last-minute gifts means customers can sip coffee in their car while they pick up the last of their holiday gifts instead of fighting crowds and waiting in long checkout lines.
While the benefits of curbside pickup for the consumer may be obvious, there are also a lot of benefits for retailers after implementing curbside pickup software.
Faster Store Inventory Turns
Curbside pickup blends the convenience of online shopping while also moving local store inventory off the floor. When foot traffic is low, it provides another way to encourage local shopping, keep store employees busy, and contribute to the store's revenue goals.
Reduce Burdens on Warehouse Fulfillment
Ecommerce sales continue to see double-digit growth rates year after year, putting heavy burdens on fulfillment centers. Retailers must have a robust distribution network to meet this high demand. Leveraging stores as additional fulfillment locations for online orders allows retailers to expand their footprint and balance out volume across their network.
Save on Transportation Costs & Mitigate Shipping Uncertainties
Curbside pickup allows the customer to facilitate the delivery process for an online order themselves. This saves money for both the customer and the retailer as they don't have to pay any shipping or packing costs. Plus, unlike standard ecommerce orders, curbside pickup orders aren't impacted by any shipping uncertainties throughout the supply chain (driver shortages, inventory backlogs, port delays, carrier upcharges, etc.).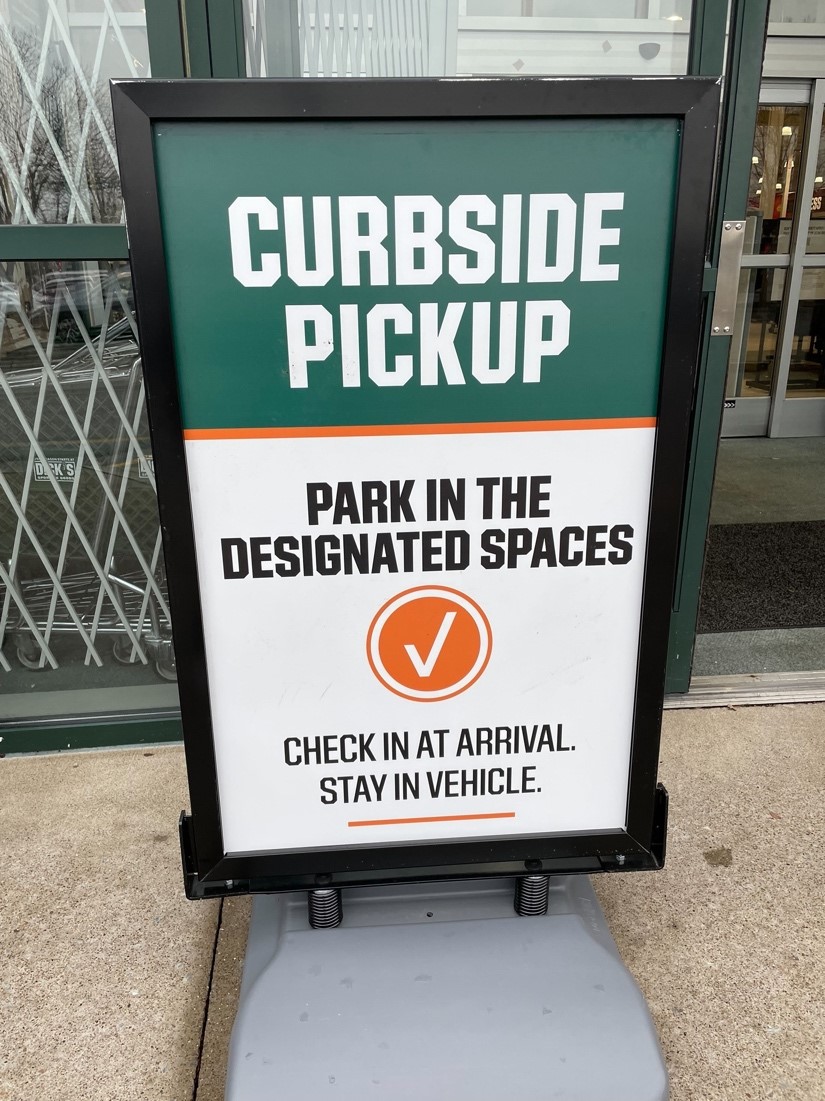 Reduce Carbon Emissions
Put simply, fewer orders a brand needs to ship = fewer emission-heavy delivery trucks on the road. Curbside pickup is a great way to help reduce a brand's carbon footprint and reach its sustainability goals.
Utilize "Dark Stores"
Shopping malls may never be what they once were thanks to Covid. However, retailers have become very creative in the ways they utilize their mall storefronts to make sure they're still getting a high return on their real estate investments. Some retailers turned their retail spaces in malls into "dark stores" or micro-distribution centers for fulfillment only. This can include shipping online orders, BOPIS, and curbside pickup.
What do retailers need to implement curbside pickup?
So what exactly do retailers need to successfully implement curbside pickup? Here's a quick rundown:
(We've also designed a Curbside Checklist so you can take this list with you. Download here.)
Real-time store inventory numbers on your online storefront (I.e. Shopify, Salesforce Commerce Cloud, BigCommerce, Adobe Commerce, Oracle Commerce, etc.)

Dedicated staff to pick the order

Order Management workflows to notify your staff when an order is ready to be picked up

Visibility into store inventory allocation & ability to assign inventory accordingly

Ability to assign capacity per store and turn on/off certain stores for fulfillment

Dedicated locations in store for storing curbside orders (many retailers hold orders up to 5-7 days after purchase)

Notification system to alert customers when their order is ready and has been picked up (either through an app, SMS marketing message, email notifications)

Hardware for associates to use curbside that connects to their order management system (handheld device from POS, iPad, etc.)

Dedicated pick up location (curbside, parking spaces

,

etc.)

Promotional campaigns to encourage customers to use curbside pickup
Ultimately, automation provided by an order management system (OMS) is the linchpin to ensure a smooth curbside pickup experience. An OMS can integrate with your online storefront, showcasing store inventory to potential customers, provide visibility into real-time inventory numbers to allocate inventory where needed, send push notifications when an item is fulfilled and ready for pickup, and alert store associates when the customer has arrived.
For retailers looking to turn every customer into their best customer, curbside pickup is an excellent option. While first implemented as a "Hail Mary" to keep their doors open during the pandemic, there is enough data and proven best practices for retailers to develop a profitable curbside fulfillment strategy. By leveraging an OMS, retailers can implement a curbside strategy that can be a positive experience for both their company and their customers.