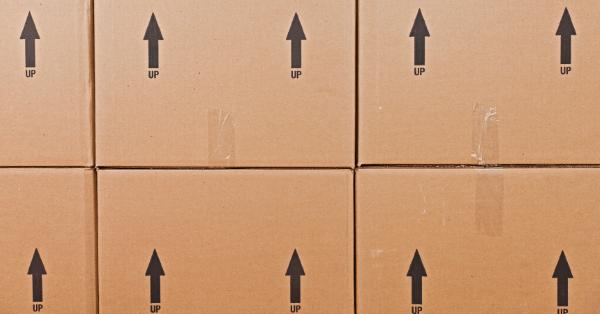 As retailers see an increase in direct-to-consumer (D2C) sales, they're seeing new challenges that come with the business model - including technology to keep up with customer expectations. To keep up with omnichannel, dropshipping, and other complex D2C distribution models, retailers are feeling the amplified need for advanced order management solutions like distributed order management.
What is Distributed Order Management?
Distributed order management (DOM) systems power advanced order processing and routing logic to fulfill retail orders from the best location(s) to maximize margins and customer experience. They provide global views of inventory and orders and determine the best fulfillment source by referencing comprehensive rules including proximity, priority, capacity, and others. Retailers with robust sales and fulfillment networks use DOM to automate business rules that optimize their buy, fulfill, return anywhere models.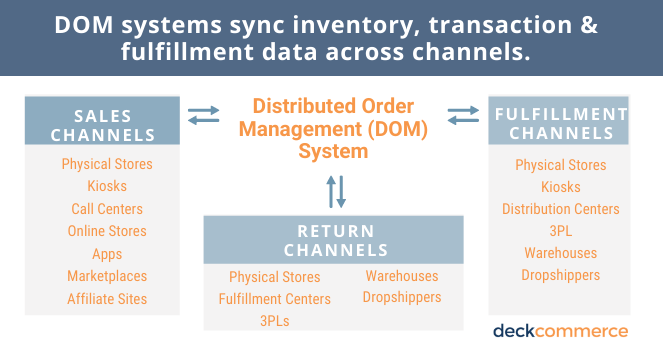 How is DOM different than standard order management?
Standard – or "traditional" – order management is focused on automating order processing functions like transactions, customer communications, and servicing. Distributed order management enables traditional order processing plus the addition of advanced order routing logic.
Standard order management systems support retailers with simple operations (ex: a single sales channel and fulfillment location), where distributed order management systems support retailers with advanced fulfillment networks and sales channels (ex: omnichannel / multi-brand / global sales and fulfillment).
Fulfillment scenarios and customer experiences supported with distributed order management

How retailers handle complex fulfillment scenarios can make or break the entire customer experience. Customers expect to receive their orders without issue no matter what items they order. Let's say a customer purchases an in-stock item, both a digital and physical gift card, a custom item, and preorders an item. To the customer, they are placing one order.

If a retailer is unable to fulfill such a complex order because of limited fulfillment rules/scenarios (fill or kill or can't split shipments), all the customer knows is their order was canceled or delayed. Most likely, that customer will take their business to another retailer that has advanced order management rules to fulfill the order seamlessly regardless of the complexity.

With DOM, complex fulfillment scenarios like the above example can be automatically routed to the optimal fulfillment location(s), trigger customer communications, and payment transactions based on configurable rules set by a brand.

Some of the most common fulfillment scenarios supported include:

Split shipments
Quickest or closest to customer
Prioritize location based on profitability (i.e. is fulfilling from a high-velocity warehouse more profitable than any store, even if the store is around the corner from the customer)
Capacity controls to prevent overwhelmed fulfillment locations
Designate location based on item type (i.e. large items that may only ship from certain locations, items that require gift wrap, etc.)
Turn fulfillment nodes on and off as needed
Customer fulfillment (i.e. store pickup, curbside pickup)
Dropshipping rules specific to retailer compliance (i.e. fill or kill)
How does distributed order management support an omnichannel strategy?
DOM enables an omnichannel strategy by managing orders from all channels in one place, so brands have visibility and control to create ideal CX and make strategic business decisions. By accepting order inputs and producing outputs for an unlimited number of sales, fulfillment, and return channels, DOM makes it easy to add, remove, or change logic as needed to support both changing customer experiences and business processes.
Here are three ways DOM supports an omnichannel strategy:
Enables flexible buy, fulfill, and return experiences between all sales and distribution channels, so customers can interact with a brand in the way that's most convenient for them, while the brand maintains high margins. These experiences include:


buy online pick up in store (BOPIS)

buy online curbside pick up

buy online return in store (BORIS)

buy online ship from store (SFS)

buy in store return to warehouse

buy in store ship from warehouse

buy in store return to store

buy online fulfill and return via 3rd party (dropshipping)

any other variation for a truly buy, fulfill, return anywhere strategy

Makes it easier for retailers to automatically process orders placed across any channels like DTC websites, marketplaces, affiliate sites, search feeds, social selling, and apps.
Provides accurate cross-channel inventory visibility, including dispositions, as orders are processed.
How does distributed order management support dropshipping?
While DOM technology doesn't physically store and ship your products like a drop shipper, the comprehensive sourcing logic supports a profitable drop shipping strategy by:
Reducing training time for drop shippers' warehouse employees
Training warehouse employees to manually run through the long list of requirements needed to meet each retailer's dropship requirements (i.e. fill or kill, shipping SLAs, etc.) can be near impossible and time-consuming. With each big-box retailer having their own set of specific rules, profitability and margins plummet if manually checking each order meets their requirements is the only option. With the right DOM, these dropshipping rules can be automated for each retailer, ensuring warehouse employees don't have to manually review each order for compliance.
Minimizing fees for orders that don't meet retailer requirements
Big-box retailers charge premium fees for orders that don't meet their strict dropshipping standards. With automated DOM rules, these orders can be detected before fees are incurred – protecting your business from sunk costs associated with dropshipping.
Rerouting orders that don't meet dropship requirements to another distribution center when possible
Not only can DOM logic detect orders that aren't a good candidate to be drop shipped by big-box retailers, they can give your business another opportunity to route the order to the next best fulfillment location – all without manual intervention.
Communicating inventory positions back up to all channels
As dropshippers reserve and ship inventory, DOM systems update available-to-sell (ATS) inventory across all channels to prevent oversells and frustrated customers.
How does distributed order management work with an ERP?
When a retailer's operations are sophisticated enough to require an Enterprise Resource Planning (ERP) system, it's highly likely they need advanced order management if they want to support an increased direct-to-consumer volume. While an ERP supports static back-door business processes, DOM supports ever-changing customer experiences associated with business operations.
A few examples of how DOM supports business processes that enable the best customer experience:
Enabling buy, return, fulfill anywhere experiences most convenient for your customers

Automating time-intensive manual processes, like automating the returns process instead of using spreadsheets

Allowing retailers to easily swap payment, loyalty, affiliate, and other technology to improve conversion rates as consumer habits change
>> Read the comprehensive article: Should Retailers Use an ERP as an Order Management System (OMS)?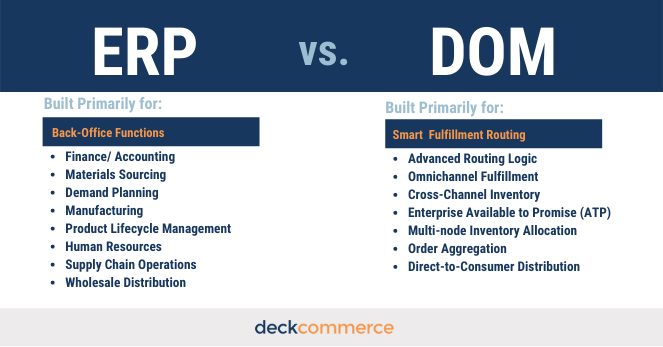 When do retailers need distributed order management?
Not all retailers need advanced order management functions. For brands with singular sales and fulfillment channels and no plans for expansion, traditional order management systems are the most profitable option, since they don't need smart routing logic to power their operations. Retailers that meet one or more of the below criteria will see ROI from the right DOM strategy.
Selling on multiple channels, marketplaces, apps, stores, affiliates, etc.

Multiple fulfillment or return locations including stores, warehouses, 3PLs, etc.

Offers customer experiences that require advanced orchestration

like automated returns, preorders, backorders, custom orders, digital items, bundles, or kits

Can't scale or grow because of inefficient/manual inventory, returns, or fulfillment processes

Using spreadsheets to manage transactions, returns, or fulfillment

Retailers with sophisticated business processes and tech stacks (using an ERP, fraud, loyalty, tax, multiple payment types, etc. - sometimes trying to supplement ERP for DOM functions.

Issues with cross-channel inventory accuracy and visibility

Would benefit from automating capacity, proximity, priority, and other fulfillment rules

Needs the flexibility to turn fulfillment locations on and off with a button