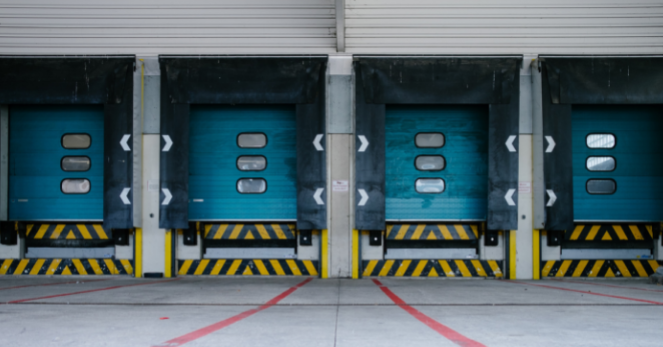 More brands are dropshipping for third-party retailers—extending sales channels, but taking on more cost & potential risk. What do D2C brands need to know about dropship vs direct fulfillment models?
What is Drop Shipping?
Dropshipping is a fulfillment method where the seller of a product relies on another business to stock and fulfill the order.
There are many permutations of drop shipping, but eachbusiness model can be distinguished by three criteria:
Sales channel:

Where the sale/transaction occurs

Inventory owner:

Who "owns" inventory prior to fulfillment

Fulfiller:

Who stores and fulfills the product to the consumer
A brand can leveragedropshipping suppliers to fulfill products on their behalf, and/or the brand can act as a drop shipper for third-party fulfillment or big-box retailers like Wal-Mart, Target, Home Depot, Macy's, etc.
In this article we'll cover:
Popular Dropshipping Models
Model A: Supplier/Manufacturer is the Drop Shipper
Brand X sells shoes on their website. However, the Supplier/Manufacturer of the shoes stores the inventory, and ships directly to the consumer on behalf of the retailer for a cost. In this scenario, supplier X is the drop shipper on behalf of the retailer.
Model B: Brand is the Drop Shipper
Brand X has digital "shelf space" and sells its shoes on Target.com. Target processes the sale and alerts the brand to fulfill the order from Brand X's warehouse. In this scenario, Brand X is the drop shipper on behalf of Target. (Example: Brand fulfilling online order for Target.com, Seller-Fulfilled Prime)
Model C: Marketplace/ Third-Party Retailer (i.e. Amazon, Walmart) is the Drop Shipper
Of course, with large marketplaces like Amazon and Walmart, there are exceptions to each of these former models. For example, with the Fulfilled by Amazon (FBA) program the brand seller still "owns" the inventory, but it is stored and fulfilled from an Amazon warehouse.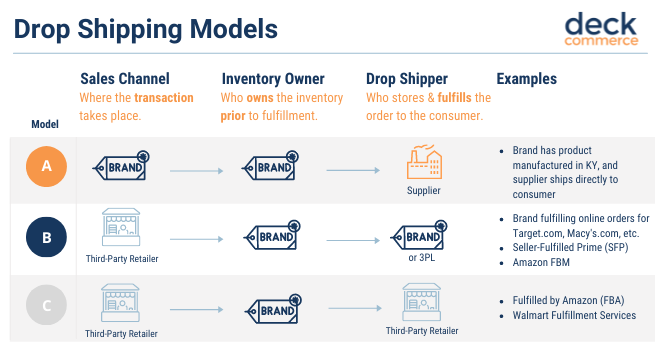 **Note: For the sake of this article, we will primarily look at model "B" with branded manufacturers shipping online orders on behalf of big-box retailers.
Trend: Brands Drop Shipping for Retailers
As ecommerce continues to expand exponentially, more third-party retailers are asking branded manufacturers to carry their own "fulfillment" weight. In a physical store, brands fight for shelf space. However, in an online store, brands have the challenge of driving consumer demand in addition to the complexity of meeting fulfillment demand for their products.
"...brands have the challenge of driving consumer demand in addition to the complexity of meeting fulfillment demand for their products."
Third-party retailers can prefer this model for a few reasons including:
They can offer their customer base a wider variety of products with minimal effort (no shelf space or warehousing requirements)

They don't have to "own" the inventory itself, or the risk of not selling it

They maintain retailer profit margins, without taking on direct-to-consumer fulfillment costs

Benefits for Brands Drop Shipping for Retailers
The biggest reason brands would consider drop shipping for a third-party retailer is that they can reach a broader audience than they might be able to reach through their "owned" direct-to-consumer (D2C) channels. A strategic mix of the channels is usually the best approach to a successful retail strategy, but for many brands, it is not always clear which model provides the greatest value for a reasonable (and the most profitable) cost.
"The biggest reason brands would consider drop shipping for a third-party retailer is that they can reach a broader audience than they might be able to reach through their "owned" channels."
A staggering 63% of all shopping searches start on Amazon, according to research from Wunderman Thompson Commerce (WTC). So, while brands may prefer owned channels to shared channels, having a presence on third-party retailer sites and marketplaces has become table stakes, meaning brands are most likely going to drop ship some of their products.
Further supporting the benefits brands see from selling outside their owned direct-to-consumer channels, 87% of brands say that they have found value in having a presence on marketplaces, according to Forrester's Q1 2021 Global State of Brand Manufacturers Survey.
For brand manufacturers, drop shipping for retailers provides numerous ways that they can cast a wider "channel" net, while still maintaining control of numerous aspects of their supply chain including:
Control of cross-channel inventory

Control customer experience beyond the "buy button" (in this case on the third-party retailer's website)

Control of order/purchase data and history (versus selling inventory upfront)

Centralized and universal processes for cross-channel orders to optimize efficiencies and streamline post-purchase fulfillment experience

Minimized "touches" and transfer of goods in the supply chain, lowering costs

A way for brands to experiment in a new sales channel
"The history of drop shipping began when retailers started selling larger consumer product goods (i.e. white goods like appliances) and didn't want to shuffle them around to several DCs. You want to minimize the moves, and therefore the cost," says Thom Campbell, Co-founder & Chief Strategy Officer at Capacity LLC, a third-party logistics (3PL) company. "And drop shipping was a way to do that."
Control of the supply chain translates to more control of both cost and the customer experience—which tops the list of all brand's priorities.
Challenges for Brands Drop Shipping for Retailers
While extending audience reach is alluring, drop shipping for third-party retailers does not come without challenges for brands.
A Shared Customer Experience
A huge drawback brands see when drop shipping for a third-party retailer is the inclusion of another brand/retailer throughout the shopping experience. If a consumer has a poor digital experience on retailer.com, they may/may not link that negative experience to the brand of the product they are buying. On the tail end of the supply chain, if a third-party retailer lacks a smooth returns process, it's left to the consumer to divorce the brand/product from the difficult experience.
Another drawback for brands opting to drop ship is that they lose some brand control as the packaging and customer notifications are often controlled by the third-party retailer.
To summarize, a drop shipping model can potentially "commoditize" a brand's products and threaten brand erosion—and therefore it should be a calculated decision before a brand explores it as a channel expansion option.
Retail Compliance & Chargebacks
An ongoing struggle when selling with any third-party retailer (whether in stores or online) involves all the requirements and rule-based standards retailers have for vendors. These rules are referred to as retail compliance and can include everything from:
Labeling rules (what to include, where it is placed, etc.)

Packing slips

Packaging requirements

Electronic Data Interchange (EDI) transaction details

Inbound transportation requirements for physical stores

Shipping time requirements when shipping direct-to-consumer

Ship complete rules (i.e. Walmart's OTIF, Fill or Kill, Fill and Kill, etc.)
While there are some compliance commonalities across big-box retailers— each one has its own set of requirements and unique standards which can be confusing for brands and their customer service representatives, and extremely costly to misstep.
"Retail compliance rules can be confusing for customer service team associates and costly to misstep."
"Additionally, retailers will have very demanding service levels that you have to comply with, and they won't necessarily feed the information (i.e. forecasts) brand's need to have a profitable channel," Campbell notes.
When brands are unable to meet the retailer's vendor requirements, they face hefty chargebacks or fines for noncompliance, which can crush margins, and even make the channel unprofitable for brands.
Fulfillment Costs + Profit Margins
In a traditional third-party retail model, brands ship inventory to stores/warehouses at a wholesale price, and the cost to sell/fulfill that product sits with the retailer (passing off the storage, fulfillment costs, and risk of not selling inventory).
In a drop shipping model, the brand is generally required to still offer products to retailers at wholesale price but takes on higher fulfillment costs—which can be up to 2-4% higher for direct-to-consumer fulfillment versus bulk fulfillment costs.
"...the brand still offers products to retailers at wholesale price but takes on higher fulfillment costs."
Noah Sange, Chief Commercial Officer at Capacity, LLC adds, "This is really challenging for brands that have lower-price goods, as drop shipping for a retailer can really eat the entire profit margin. We always encourage brands to do an in-depth cost-benefit analysis of drop shipping to make sure it makes sense for their brand."
Campbell adds, "Brands often can't enhance margins, as shipping is most likely going to be on the retailer's accounts as they have economies of scale. So, brands lose the ability to use shipping cost to cover some of the cost to pick, pack, and ship."
Inventory allocation
Another important consideration when brands are considering a drop shipping model, is to ensure that they can manage their inventory effectively without potentially risking lost sales due to stockouts or inaccurate inventory information.
Many retailers still face the challenge of channel-siloed inventory and an inability to allocate inventory.
Data + Technology Integrations
If 2020 revealed anything to retailers, it indicated how technology (both front end and back end) can propel a brand into agility and flexibility or prevent them from easily adapting their retail strategy.
With a drop shipping model, brands often face the challenge of making sure the right information gets to the retailer in the right format. This can sometimes require technology development work, unfavored system customizations, or other technical challenges to pass data and information.
Advice for Brands Considering DropShip Fulfillment Services
Build a cost model to ensure it makes sense for your brand.

Think through the associated costs to dropship.

- Integration cost
- Data transmission cost (EDI fees)
- Shipping cost increase
- Dedicated resource cost (Unique packing stations, etc.)
- Do you lose control of setting shipping rates?
- Risk of chargeback or fines

Consider your fulfillment method (in-house, 3PL, etc.). Can you/they provide this service? What complexities or changes do you need to implement?

What can you automate? What safeguards can you leverage via technology or partners (i.e. a 3PL) to protect profit margins?

What technology do you need to dropship efficiently?
How an OMS Optimizes Drop Shipping for Retailers
An order management system (OMS) can alleviate many of the pains that brands face when drop shipping for third-party retailers. Because it connects all order sources to relevant operational technologies on the back end (WMS, ERP, etc.), it streamlines fulfillment regardless of channel.
Specifically, an OMS optimizes drop shipping for brands because it:
Decreases risk of non-compliance and chargebacks.

By creating workflows for compliance rules, brands can ensure that every order fulfilled is "as requested" by the retailer.

Serves as a central source of truth for all orders.

This prevents hopping around multiple systems and order sources for manual consolidation.

Automates complex processes.

This ensures a repeatable and reliable customer experience.

Ensures compliance to meet each third-party retailer's requirements.

Gives brands more control of customer experience

with indirect customers than a traditional B2B retail model. Brands control the pick, pack, and shipping side of the experience.

Alleviates pressure from customer service team

to know and remember individual

retailer requirements

for orders.

Eases technology integration challenges

many brands face when integrating with retailers

Improves margins

by reducing manual intervention per order (fraud review, customization, etc.)

Improves forecasting and predictability

by providing global-level view of cross-channel fulfillment data.

Enables retailers to easily shift available-to-sell (ATS) inventory to meet increased consumer demand.
Ultimately an OMS simplifies order management—including fulfillment automation for all channels and complex scenarios, so brands can spend less time on manual execution of tedious drop shipping requirements and more time on market expansion.
"We've worked with numerous brands to minimize the risk of drop shipping through Deck Commerce OMS," says Chris Deck, Founder & CEO of Deck Commerce. "We all know that drop shipping can be complicated and we're seeing that our OMS can make it easier for this additional sales channel to be a profitable one for brands."
To learn how Deck Commerce can help your eCommerce business with drop shipping visit deckcommerce.com/demo.
---
About Capacity LLC
Since 1999, Capacity LLC has delighted clients and their customers by delivering exceptional order experiences, via custom-engineered fulfillment solutions, value-added services, and tier-one technology. Strategic locations on each coast and in the Midwest reduce transit times, facilitate cost-effective shipping, and provide flexible transportation solutions. Our coastal facilities are close to the major ports of Los Angeles/Long Beach and Newark/New York.
Capacity also has a well-developed infrastructure serving the European market, with fulfillment operations in the UK near London's Gatwick Airport, in partnership with Yusen Logistics subsidiary ILG UK. The company provides domestic and international distribution for brands with a global reach.