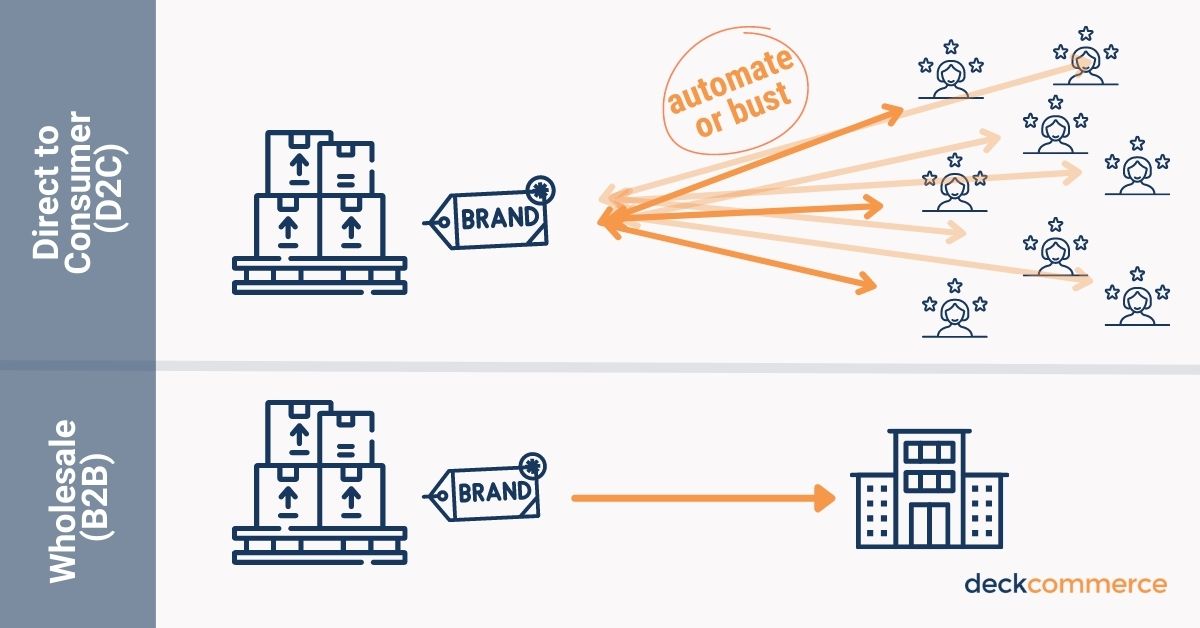 In years past, brands have focused the majority (if not all) of their business on wholesale distribution. The day-to-day business operations and back-office tasks like demand planning, accounting, and sourcing that come with a primarily wholesale model could be successfully managed with their Enterprise Resource Planning (ERP) system. Managing interactions with end consumers was limited or non-existent, and the ERP wasn't built with end consumers in mind.
As digital commerce skyrockets and retail brands recognize the long-term power, profitability, and flexibility a strong direct-to-consumer presence adds to their business model, retailers recognize the need to change their internal processes and technology to meet new business goals. But many brands struggle to identify what is needed to take their business from primarily a wholesale model – with limited customer interaction – to a larger percentage of direct-to-consumer sales.
"Let's squeeze by on our current system just a littttttle longer……"
As D2C volume increases for brands—so do "one-off" scenarios like returns, cancellations, fraud, shipping & payment errors—increasing the burden on retailers using manual processes. These retailers recognize that using spreadsheets, stopgap custom code tacked on to their ERP, and yelling down the hall to the warehouse manager about a return from Timmy in Idaho, can't handle the increase in D2C orders with their current tech stack. By trying to squeeze by on their current system, retailers end up wasting time and risk losing customers.
The wholesale tech stack that accommodates bulk orders by the pallet to a small number of big box retailers is not the same tech stack that will accommodate single-item orders to the masses. That's what distributed order management (DOM) was built to accommodate.
Here are a few of the signs your D2C volume is outgrowing your current processes and technology:
Increased frustration between internal teams including sales, IT, warehouse, customer service, and finance

Poor customer experience after an order is placed

Declining customer satisfaction and loyalty

Declining margins due to IT overhead, time-consuming manual processes, and fulfillment inefficiencies
Why can't retailers grow direct-to-consumer volume using their ERP?
To sustain margins with a D2C model, retailers need to automate as many customer-facing and time-intensive processes as possible with DOM. If you were previously focused on wholesale or are starting to grow D2C sales, you should consider the sheer volume of individual orders (and inventory pieces) you'll be managing now vs the small number of large orders on the wholesale side.
For example, in a wholesale model, shipping a single pallet with 100 items to a single retail store, collecting payment, and updating inventory to reflect the change is much less complex than selling 100 items directly to consumers. A D2C approach requires consolidating orders from all the different selling channels (branded sites, apps, marketplaces, stores), relaying allocated inventory back to all selling channels, determining the most profitable location to fulfill the orders, communicating order updates, checking for fraudulent orders, shipping items to 100 different addresses, and managing reverse logistics leaves more room for error and poor margins without automation.

What are the bro
ad categories retailers need to think through to automate D2C order processing with DOM?
Inventory
How will inventory stay accurate across all your channels as volume increases (including "unplanned" high-volume events like a product gone viral)?

Are the right inventory percentages allocated per channel?

At what threshold does safety stock hinder sales more than it protects customers from stockouts?
Transactions (emails, payment, tax, credits, etc.)
What percentage of orders will need to be checked manually for fraud and other payment errors? Can vendors provide estimates?

When should internal processes be tied back to customer communication?

How will finance reconcile end-of-month reports with different capture timing, returns, and other new D2C scenarios?
Fulfillment
Should stores be used as order fulfillment centers?

Is there a capacity threshold for each fulfillment location?

Is it more profitable to ship from a particular location for certain product types like large items?
Customer Service
End-to-End Customer Experience
What "exception" scenarios can cost D2C retailers the most (if left un-automated)?
Inefficiencies with "one off" orders in the D2C world will end up costing a fortune in the long run. An order management system can create automated workflows for complex D2C scenarios including:
Fraud

Preorders / Backorders

Fulfillment routing based on capacity, proximity, priority, split shipments vs consolidate, fill or kill, etc.

Returns

Cancellations

Exchanges

Omnichannel fulfillment like curbside, bopis, ship from store

Subscriptions
Is the direct-to-consumer juice worth the squeeze?
All of this sounds like a lot more work than just shipping products to one giant big box store and calling it a day. Right?
D2C retail – like everything in life – has its pros and cons. For some retailers, the average order value is too low to justify the cost of operations to support their business in a D2C capacity. Shipping a $1 toothbrush to every consumer individually will never be profitable. A $200 toothbrush is a different story given the margins and other business rules are right.
There are a lot of factors that go into a profitable long-term D2C strategy — automating most of your order management workflows is just one of them. And the significant growth our customers experience year over year is proof that the right D2C model is a lucrative long-term strategy.