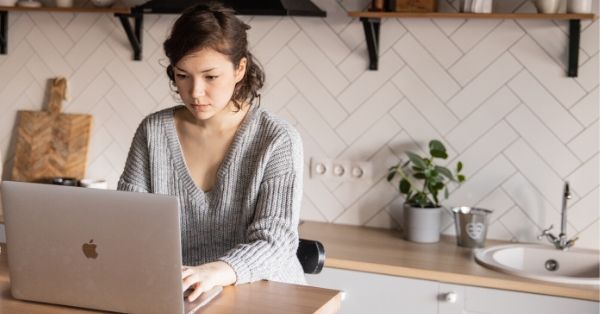 For years, experts predicted ecommerce sales would continue to grow at exponential rates. Younger tech-savvy shoppers (Millennials and Generation Z) have increased buying power and strong influence over household purchases.1
As COVID-19 shook the world and retail stores closed, ecommerce has grown at warp speeds for shoppers across all demographics.
Digitally native and strong direct-to-consumer brands were positioned well for the seismic shift — but traditional retailers or those late to digitalization scrambled to get people, processes and technologies in place to adapt to the new landscape.

However, as ecommerce growth soars in 2020, the increased volume in sales has exposed continuous challenges for online retailers.
1. Understanding & Acquiring Customers
Customers should be at the heart of every retail strategy. The great business consultant, Peter Drucker, said, "the aim of marketing is to understand your customers so well that the product or service fits him [or her] and sells itself."

The challenge? Your customers (and their behaviors) continuously change and develop over time. Danielle Savin, a digital strategist at CapGemini DCX, commented in a recent retail webcast that retail is about "understanding what your customer — or your new customer — wants."

What they want today may be completely different from what they want tomorrow. Remember when 7-day paid, shipping was the acceptable norm? Or when shoppers felt uncomfortable entering their credit card number on a website? Now items can ship in as fast as a two-hour window and shoppers enjoy additional options for payment like Apple Pay or Venmo.

Simply put, what worked for retailers in the past, may or may not work in the future. Top retail brands should constantly listen to their customers, analyze data on their behaviors, and adjust strategy accordingly.
"What worked for retailers in the past, may or may not work in the future."
This is why the phrase "customer-obsessed" entered the retail space. Obsession-level interest in your buyers keeps you ahead of your competitors.
2. Technology Challenges
You can't talk about online retail challenges without mentioning the many technologies behind the scenes that power everything from the storefront to front door. Retailers require a plethora of tools, integrations, and data flows to make sure that everything runs as smoothly as possible — to make sure Mrs. Jones gets the blue medium sweater, on time.

From storefronts to ERPs, POSs, CRMs, ESPs, OMS, and beyond — each tool offers a unique value proposition to your business, or brings you a lot of headaches.
The "Franken-System" Challenge
One of the biggest myths retailers believe is that one system can do it all. With X, Y, Z customization, and A, B, C integration, and 1, 2, 3, additional extensions…the tool can do everything you need it to do — even though it was likely built for one specific function.

The biggest challenge with this approach — it hands over the fate of your customer experience to all of those vendors and all of the disparate developers associated with each of the moving pieces. One bug or outage and orders aren't delivered.

Additionally, this type of technology stack often solves problems for "right now" rather than thinking about your future business goals. Even worse, adding new capabilities runs the risk of impacting the others in a domino-like effect. For example, adding one new seemingly risk-free capability can break another standard capability, especially if they weren't built by the same team with your specific use-cases in mind.
The DIY or Homegrown Challenge
The term "DIY" has a positive connotation if you're an HGTV fan, but when it comes to technology, it can be a long-term headache. Retail brands often go this direction because they know their business best and want to align available resources to create and maintain their own technology.

But as the landscape changes and new capabilities are needed, retailers realize how costly (both in time and money) it is to maintain a robust commerce tool internally. Not to mention the pressure to provide ROI on the tools to other internal stakeholders.

While this approach seems like a good idea, most retailers eventually outgrow the system they built, or they no longer want to invest in a tool needing continued maintenance and updates to stay competitive with other solutions.
3. Lack of Supply Chain & Fulfillment Flexibility
As people watched Amazon become the retail behemoth it is, there has been an increased interest in the inner workings of supply chain. For many retailers, it has been a slow move to a true omnichannel approach. Many could "get by" with their physical stores floating the bulk of revenue and using ecommerce as ancillary revenue. More brands will invest in the technologies that empower an omnichannel approach.

Don't fall prey to the franken-system approach, or get stuck in a DIY, bolt-on stack that won't meet your brand's plans for growth.
Planning an omnichannel strategy? Download our Free Guide to Choosing the Right Order Management System.
Maintaining Flexibility (Yet Control) of Your Supply Chain
The supply chain is at the core the brand experience, and how you fulfill orders can surprise (or sour) your customers. Whether you manage fulfillment in-house, outsource to a third-party logistics provider (3PL), or some mix of the two — you need two features in place — flexibility and control.
Flexible Fulfillment Options
The most successful brands market to consumers at a variety of touch points with their customers and leverage each touchpoint to create a unified buying experience. Then, no matter how your customers prefer to interact with your brand — you have the capability to deliver on your brand promise.
This includes more complex fulfillment options such as:
Buy online, pick up in store (BOPIS)
Buy online, return in store (BORIS)
Curbside pickup
Ship from store / Micro-distribution centers
Visit showroom, buy online
Buy in store, return online
Omnichannel inventory
Automated return management authorization
Preorders and backorders
Customized products with unique workflows
Subscription-based products
Loyalty programs
Advanced gifting capabilities
Implementing a direct-to-consumer operation?
[Read the Ultimate Guide to Unified Commerce]
Control of Your Customer Experience
Flexibility gives you the ability to meet your customers where they are in their path to purchase. But brands still need control within their operations to create a delightful experience.
Your order management system (OMS) should give your customer service and store associates access to the entire order history, no matter where the order originated. This way, they can update and modify orders, issue refunds, and manage exchanges across all of your retail channels.
Having the big picture of your customer journey, enables you to tailor the experience on a personal level.
Summary
The rate of change in retail over the last six months is astounding. As we move forward as a community, each phase will inevitably bring its own (perhaps new) challenges.
But the stats have proven one thing to be certain—retail brands with the right people, processes, and technology in place will be the ones to delight their customers.
Building an Omnichannel Retail Strategy?
Start by assessing each of the eight steps of your order lifecycle to understand how to optimize your fulfillment processes.