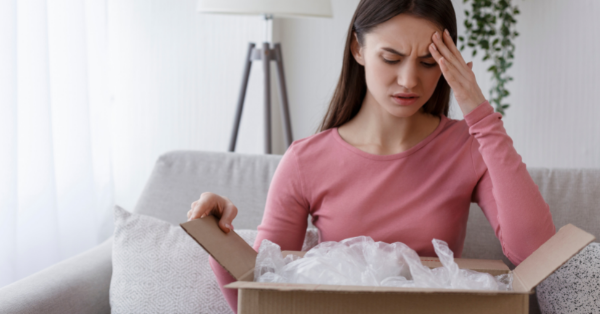 After reading part 1, if you're feeling down about how your brand might have failed customers, don't fret! There's time to turn around their experience by getting your teams and systems in place.
Read on for five more points of CX friction you'll want to address:
CX problems, and how to fix them...continued
6. Customer service agents are unable to find an order because the customer doesn't have their exact order number on hand
One piece of trivia every person always knows is their name or email address. What we don't necessarily carry around with us is an order number.
Withholding order information from a confirmed customer who's already reaching out due to an issue is not a good experience. And, as we've established, a positive experience is absolutely essential for a brand's success. Some quick reminders why:
Within each customer's account, you'll want to associate other data points as alternate search methods. A unique order number is ideal, sure, but a unique email address does the trick, too. The service agent can always be instructed to have the customer confirm other linked data—like name or birthday—for added security.
To beat a dead horse: Because of how integral customer service agents are to the brand experience—leading to loyalty, referrals, repeat purchases—it's imperative that they have all the data they need at their fingertips. If a customer has to call customer service, the call should be as painless as possible.
That's where an order management system comes in. From simple adjustment entry to ensuring calculations accurately figure in tax and promotional values, your agents will spend less time calculating how much should be returned and get your customer back to their day.
7. Having to call customer service for every little thing
Ever since the toddler stage, we've wanted to do things for ourselves. Millennials, in particular, will attempt every avenue before picking up a phone. The immediacy of a Googled answer is more appealing than an inefficient phone call.
And you want efficiency for your support team: employing optimized search, chatbots, and fine-tuned automated email replies frees up your agents from routine calls with answers readily found elsewhere. Save your smart team's time for the really tricky, specialized customer queries.
It's what the people want: Zendesk reports 40% of customers will still call after unsuccessfully searching online, yet 67% say they prefer self-service instead of talking with a customer service rep.
"[C]ompanies that fail to meet expectations for robust customer self-service will end up paying for larger support teams, since data shows that customers who can't access the answers they need will pick up their mobile phones to talk with an agent. So while creating an easy-to-use customer self-service portal isn't free, doing so will drive customer engagement at a fraction of the cost," according to Zendesk.
8. Loyalty or rewards points not tracking correctly
Loyalty programs are par for the course, with 90% of companies offering them, reported Accenture Strategy. Yet they aren't revenue-drivers. In fact, they're often set-it-and-forget it programs that don't engender loyalty.
Letting it run on autopilot is wasteful, Accenture Strategy says in its report "Seeing Beyond The Loyalty Illusion: It's Time You Invest More Wisely":
"For the past 30 years, airlines have rewarded loyal customers with redeemable miles based on the distance they traveled. Now, in an effort to optimize revenues, carriers are issuing rewards based on the amount their loyalty members pay to fly. The move makes sense financially. Passengers that pay higher fares are more profitable. The change in the program is intended to attract, serve and retain those high-value customers."
So now you're in a pickle. You have a rewards program in place, and blowing it up is a whole thing, but members are upset their points aren't tracking right.
Plus from the retailer's perspective, you need to make sure the points are tracking right so you aren't giving away free product by mistake. For example, the customer bought 300 points worth of products but ended up returning 200 points worth. You need the right technology in place to make sure the balance is captured correctly (and also communicated to the customer so they understand why their points are lower!).
The takeaway is that if points are unreliable, the program is not worth it for the customer or the retailer. You will not earn loyalty with a poor experience.
Matt Benz, founder and CEO of BankingGeek, advises a tracking system that's integrated into your OMS. "This will ensure that points are automatically tracked and assigned to the correct customer, making it easy for them to redeem their rewards. In addition, it will also allow you to keep track of customer activity and ensure that your loyalty program is working as intended," he said.
9.

Unable to return a product they purchased online to the physical store (or not able to self-initiate a return)
It's true that a returned purchase is an opportunity for a salesperson to suggest an exchange or upsell, and that some consumers take advantage of return policies, but that's what you as a brand are focused on. The customer just wants to initiate their return online or make a simple return in the physical store.
In a "not cool" move, fashion retailer Zara began charging for online and third-party dropoff returns, with £1.95 taken from the return total. In-store returns remain free.
Some companies, like Patagonia, have earned a reputation for prioritizing the customer's experience after a product doesn't quite work out. For the outdoor clothing and gear company, a customer's desire to return an item isn't the end of the relationship. Patagonia will repair, replace, or refund — it's called the Ironclad Guarantee. Rothy's is another company making returns easy.
Developing a considerate, collaborative, customer-first returns policy is worth it, as it's estimated 70% of customers will keep shopping with a company after a positive return experience.
10.

Refunds take days or weeks to process
As our last point of friction, let's talk about people and their money. While an IOU from a friend might be tolerated for some time, a company's IOU is infuriating.
When a customer returns a purchase, the process should be simple, positive, and neatly wrapped up. That means no long wait times to confirm the return, and a speedy reissue of the customer's payment.
According to Invesp, 92% of people will make another purchase if their return experience was easy.
The right order management system can automate a transparent returns process to refund payment with the correct taxes, prevent fraud, and allow for returns initiated anywhere—in store, online, or by a service team member.
Put customers first to remove friction
As with Patagonia, customer experience can be the key differentiator that keeps a person coming back. Customer-centric companies simply see more profit than those that don't prioritize their audience.
Chat with an order management expert to learn how to manage the customer experience beyond the buy button.