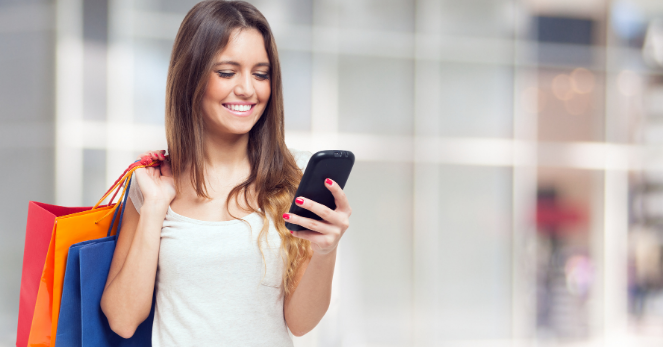 Omnichannel initiatives have been on retailer's "to-do" lists for years now, but with the recent pandemic, omnichannel jumped straight to the top of those lists. Eighty percent of the top 1000 retailers implemented return in-store (BORIS) and 70% implemented pickup in-store (BOPIS) in 2020. According to Forrester, retailers who haven't seriously invested in omnichannel need to "catch up now, to survive."
Omnichannel makes the customer the focus by giving them more options for convenience and a unified experience no matter where they're shopping or returning. And brands who are able to implement solid omnichannel retail strategies rely heavily on their technology , especially order management systems, to curate the best customer experience every time. In an industry where timely innovation is key, brands need technology that allows them to scale their business quickly–not hold them back.
In an industry where timely innovation is key, brands need technology that allows them to scale their business quickly–not hold them back.
Here are some of the best examples of retailers creating seamless omnichannel experiences for their customers.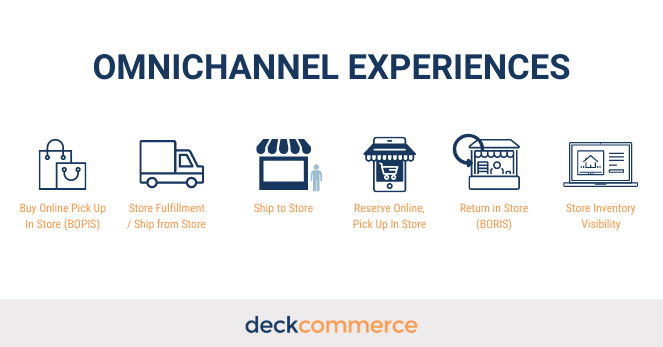 Build-A-Bear: Ship from Store & Digital Gifting
Build-A-Bear is known for its unique in-store experiences where children can create their own furry friends to take home. With the increase in online shopping, Build-A-Bear mirrored that unique in-store experience on their website. They give customers the option to include online-recorded voice messages with their gift—allowing family members to send special messages even while they are apart.
To keep up with the influx of online orders, Build-A-Bear turned their retail spaces into micro distribution centers (in just four weeks) through their use of their order management system. Not only did this keep stores operational during the pandemic, but now, Build-A-Bear has an infrastructure in place for a broader distribution network and the ability to offer a true omnichannel customer experience.
New Balance: Reserve Online, Pick-Up in Store & Ship from Store
Global athletic footwear and fitness apparel brand, New Balance, offers their customers a variety of options when shopping for new gear. One unique way they serve their customers is through a "Reserve Online, Pick Up in Store" option. While customers can also buy online and pick up in store (BOPIS), this reservation option (ROPIS) allows customers to place items they want to try on before purchasing, on hold until the next business day.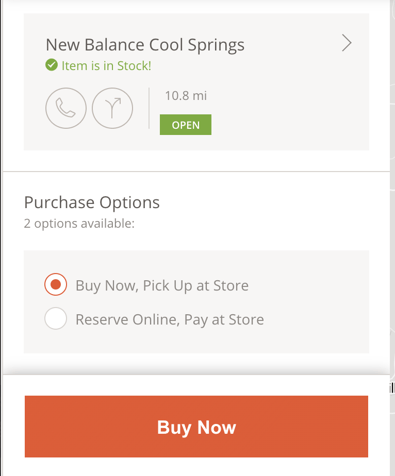 New Balance also sees the benefits of operating a ship-from-store model and turned one of their retail locations into a micro-distribution center. This is located in an urban area where in-store traffic is lower, but local ecommerce orders are skyrocketing.
Case Study: How Global Shoe Retailer Stays One Step Ahead of the Market Via OMS
Rothy's: Customer-Centric Returns
Digitally-native shoe retailer, Rothy's, unlocked the not-so-secret truth that offering a convenient, customer-centric return policy can positively impact overall customer experience. They recently entered the brick-and-mortar space with five retail stores in major metropolitan areas. If customers are located near their brick-and-mortar locations, they can simply bring their items back to the store. However, if customers aren't located near a retail store, they have the option to either mail in their return, or leverage Rothy's partnership with Happy Returns to offer convenient drop-off locations in third-party stores across the country.
"Seventy-eight percent of US online adults want websites to indicate product availability in stores, and 83% want to see the estimated date and time of arrival on websites." – Forrester Research
Read more about how an OMS can optimize the return management process.
Madewell: Ship-to-Store
When shopping online, socially-conscious brand, Madewell not only offers customers sustainably-made clothing, but several ways to purchase. Shoppers can opt to have their items shipped directly to their house, or they can ship the item to the store to pick up. By offering ship to store, Madewell provides the option of free shipping (a plus for customers), while increasing foot traffic into the store. (A plus for retailers as 85% of BOPIS shoppers say they buy additional items when picking up in store).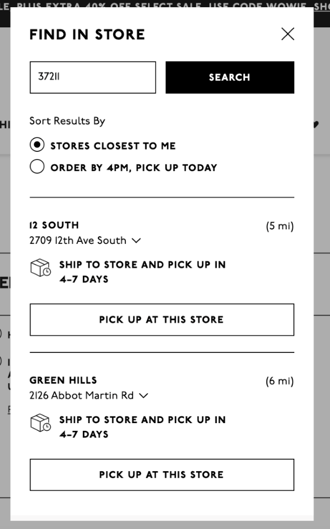 Carter's: Highlighting In-Store Inventory
Children's apparel retailer, Carter's, delights their customers by showcasing local store inventory on their website – because sometimes parents can't wait 4-7 days for additional onesies. Customers can sort their search results to options that only their local Carter's store has in stock and available to pick up that day.
Using an order management system that calculates available-to-sell (ATS) inventory for all channels, including stores, allows them to display store inventory on their website, so brands can encourage customers to shop in store. Carter's also offers convenient curbside pickup if shopping in-store isn't an option.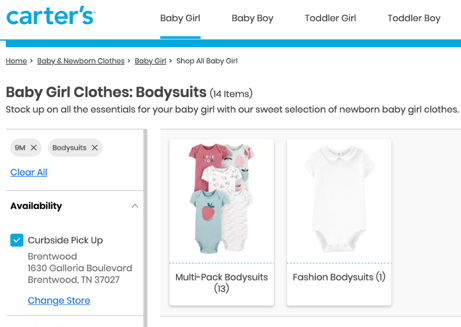 Home Depot: Displaying All Product Information Down to the Store Aisle
Home improvement giant, Home Depot, started its omnichannel operations in 2018 with its "One Home Depot" strategy. According to their leadership update, they're developing "a truly interconnected shopping experience by allowing customers to seamlessly blend the digital and physical worlds" by the end of 2021.
It's clear from their website that they are focused on creating a customer-first model. On their product pages seen below, Home Depot offers their customers several ways to find what they need. They even go as far as putting what aisle the product is in at their neighborhood store. Everything a customer needs to make their purchasing decision is right on their website (and app) and eliminates unnecessary friction in the buying process.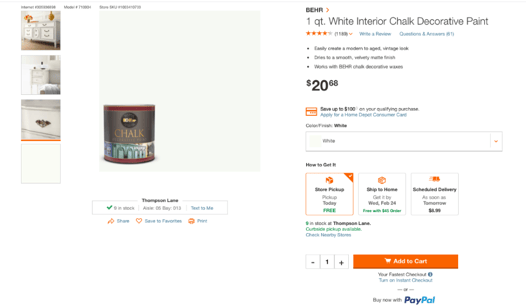 Summary
Brands that prioritize omnichannel strategies will continue to win in the retail landscape. With a strong tech stack—anchored by a powerful order management system— retailers can provide customers with the seamless omnichannel retail experiences they expect.