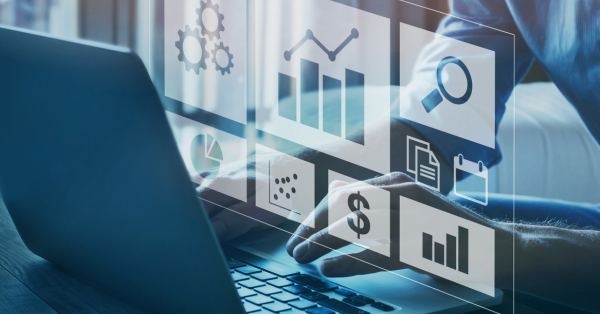 An OMS and an ERP are powerful tools that play distinct roles in streamlining and optimizing retail operations. But just like retail, technology isn't one-size-fits-all.
By understanding their unique strengths and applications, brands can make informed decisions on when to leverage an OMS over an ERP, and vice versa.
In this article, we will explore five common use cases where an OMS shines compared to an ERP to help brands create seamless shopping experiences.
Understanding the Purpose of ERPs
Initially developed as Material Requirements Planning (MRP) software to manage manufacturing processes, the ERP has evolved over the years. It expanded its capabilities to cover various aspects of day-to-day business, such as accounting, finance, operations, and customer relationship management.
In the 1990s, Gartner introduced the term Enterprise Resource Planning (ERP) to distinguish the broader scope of technology from traditional MRP systems. The main concept behind ERP is to offer a centralized and integrated database, providing information across multiple functions within a company.
Why Brands Leverage an ERP
In the fast-paced world of B2B commerce, efficiency and precision are crucial for success. Many brands turn to Enterprise Resource Planning (ERP) systems to handle complex B2B operations efficiently.
These ERPs excel at managing intricate tasks in batch-type scenarios, making them ideal for B2B operations with longer lead times, fulfilling orders from fewer distribution centers, and meeting service level agreements for major retailers.
For industries like manufacturing, where products may require shipping multiple components to build a final product (think aircraft manufacturing), ERPs are indispensable. Their ability to handle such intricate complexities ensures smooth production processes and timely delivery.
While ERPs serve an essential function, their robustness comes at the expense of agility.
However, it's important to note that while ERPs serve an essential function, they are monolithic systems—and their robustness comes at the expense of agility.
For retailers that need to adapt quickly to market changes or customer demands, relying solely on an ERP might not be the most efficient solution.
To learn more about the challenges of using an ERP for order management, check out this article -> Should Retailers Use an ERP as an Order Management System (OMS)?
In such cases, brands need to strike a balance between leveraging the strengths of ERP systems for complex operations while also incorporating more agile solutions to meet the ever-changing demands of consumers.
That's where their order management system comes in.
When to use an OMS rather than an ERP
Composable commerce, or building a technology stack by finding the best solutions for specific needs, is the future of retail technology.
Just because something can do "all" things, doesn't mean it should. If I only need a chair, I'm going to buy a chair. I don't want to have to buy a whole new living room set that I don't need just so I can get the chair. I'm either going to find someone who can sell me just the chair, or I'm going to find a way to build it myself.
The same goes for commerce vendors. When searching for a solution to a specific problem, brands want to find the best way to solve that problem, not purchase a suite of tools they may never use.
That's why so many brands lean on an order management system to manage the lifecycle of an order, rather than try to adapt their ERP into something it was never meant to be.
Let's take a look at a few common use cases where leveraging your OMS over an ERP makes sense.
Direct-to-Consumer Orders
When you're shipping units and not pallets, it's best to lean on your order management system. Direct-to-consumer orders need to ship fast to meet consumer expectations and legacy systems like ERPs, just can't keep up.
Flexibility & Agility
Making changes in an ERP is hard, time consuming, and expensive. At the rate the retail industry moves, brands need to be able to pivot in real time—whether that's adding a sales channel, implementing ship from store, or navigating an external crisis.
Plus, an OMS built with plug and play architecture will give brands the ability to easily swap or add new technology vendors (like tax, fraud, loyalty, etc.) when they need it.
Complex Fulfillment Network
ERPs work great when they deal with 4-6 distribution centers, but if a brand also has multiple retail locations they ship orders to, it's best to lean on an OMS. An OMS can route orders to the best fulfillment location – including retail stores.
Omnichannel Capabilities
An OMS excels in the omnichannel arena. Brands can offer convenient omnichannel fulfillment options like Buy Online Pick Up in Store (BOPIS), Curbside Pickup, and Buy Online Return in Store (BORIS) which are known to increase average order value and improve customer loyalty.
Advanced Order Complexities
Brands offering kits, bundles, preorders, backorders, grace periods, or any other complexity outside of a standard order should use their order management system to ensure a seamless customer experience.
Where does an OMS fit in a brand's tech stack?
A dedicated order management system plays a vital role in enhancing the functionality of your ERP.
It serves as the centralized source of truth for order and real-time fulfillment data and seamlessly integrates and communicates with your other essential systems.
Plus, the specialized expertise of an order management system provides retailers with a competitive edge over generic systems that lack purpose-built capabilities.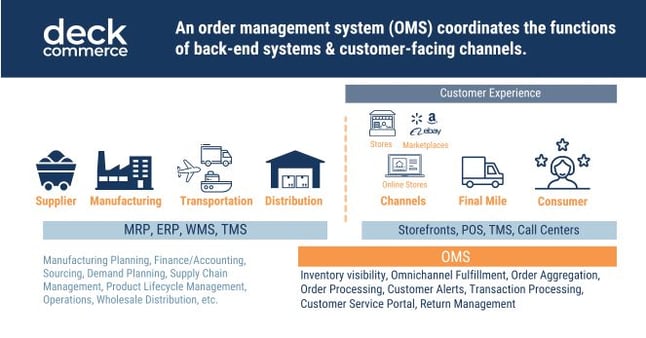 By understanding when to leverage an order management system over an ERP, brands can ensure their business stays efficient and profitable, while also creating ideal shopping experiences for their customers.