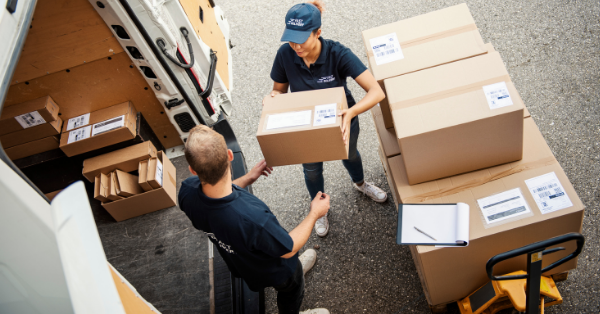 All this self-care talk as of late might have you rolling your eyes at the word "fulfillment," but when it comes to order fulfillment, you'll want to see this: How customers receive a retail order is as much a part of the shopping experience as the new purchase itself.
Who among us hasn't been frustrated by delayed deliveries, lack of customer service, missing items, or damaged products? Whether or not the retailer is directly at fault, repeat purchases can be lost when poor fulfillment breaks a customer's relationship with a brand: 37% of customers claim they'll never again shop with the same store after a negative experience.
Retail has changed significantly over the past five years. Whereas it used to be self-fulfilled—meaning the customer walked into a store, made a purchase, and walked out with a bag in tow—now there are so many ways to fulfill an order.
How are orders fulfilled today?
There's the traditional shopper physically in a brick-and-mortar storefront. That's the shopping we knew (and loved). But today? Customers are in their jammies using an app. They're scheduling purchase pickups that don't require them getting out of their car. They're shopping from a brand that uses a marketplace to manage inventory.
Today's shopper has so many routes to having their order fulfilled, and brands have the same options for closing the customer journey loop. Those options include:
Traditional ecommerce fulfillment
The order is placed online then sent to a warehouse to be picked, packed, and shipped. This is done either in-house, via a third-party logistics warehouse (3PL), or a combination.
Same-day delivery
Use local store inventory to deliver the order the same day it's placed. Many retailers partner with third parties, like Shipt, to get these delivered.
Ship to (or from) store
A customer makes an online purchase and opts to have their order sent to the store for them to pick up. Or, an individual store fulfills an online order based on its available inventory.
According to Metapack's Global Ecommerce Consumer Report, 66% of customers order items online when the physical store is out of stock.
Dropshipping
The brand uses a big retailer for digital shelf space and then fulfills the order. Or, a brand sells an item on a marketplace like Amazon and houses its inventory in the marketplace warehouse, where it's then fulfilled by Amazon.
The global dropshipping market is expected to grow up to $476.1 billion by 2026. 🤯
Omnichannel options
Omnichannel is a seamless customer journey that links every retail channel. It's consistent across touchpoints and typically involves a combination between the physical and online.
The types of omnichannel fulfillment are:
BOPIS

(buy online, pick up in store)

BORIS (buy online, return in store)

ROPIS (reserve online, pick up in store)

Ship from store / ship to home

Pick up in warehouse

Return to warehouse
What a boon the pandemic has been for ecommerce brands that adopted omnichannel tech. Leading retailers can offer a true buy, fulfill, and return anywhere experience. In the UK, about 38% of purchases are now done through different channels. Sridhar Ramaswamy, Google's former senior vice president of ads & commerce, claims customers no longer see a difference between online and offline shopping—shopping is shopping.
Why distributed order management is crucial
The customer order experience is everything, and retailers shouldn't drop their attention when fulfilling advanced options like those mentioned above.
With distributed order management (DOM), these complex fulfillment scenarios can be automatically routed to the optimal fulfillment location(s), automate customer communications, and trigger payment transactions based on configurable rules set by the brand.
DOM enables brands to make strategic decisions about customer experience—and we all know that a positive experience leads to brand loyalty, brand advocates, and repeat purchases.
What to consider when creating a fulfillment strategy
There are some business rules retailers need to take into consideration here, because a winning fulfillment strategy is important for customer loyalty and gaining a competitive advantage.
Capacity:

Is there a maximum number of orders that can be fulfilled at each location?

Priority:

Is one distribution location always the most profitable?

Proximity:

Do you want to track geocoordinates of addresses and prioritize fulfillment based on the closest warehouse to the destination?

Efficiency:

Do you want to fulfill a customer's orders as quickly as possible or consolidate multiple orders into the fewest number of shipments?
Find the weak link in your supply chain
With these multiple order fulfillment routes, it's vital that retailers identify and strengthen their weak links. That might mean acknowledging they simply don't have the available staff to manage BOPIS or that they need to search for a new warehouse solution that shares their customer experience expectations or that they simply don't have the right technology in place to handle advanced fulfillment scenarios.
Quality products can't outweigh a negative fulfillment experience. When retailers consider how they want their customers to feel after shopping, they should definitively know:
Who their shoppers are

What they care about

Where they're placing orders

When they're told to expect fulfillment (and when their order is actually fulfilled)

If their CX expectations are shared across touchpoints (such as delivery people and the bigger retailers that house and fulfill their products)
In other words, take care of your customers.