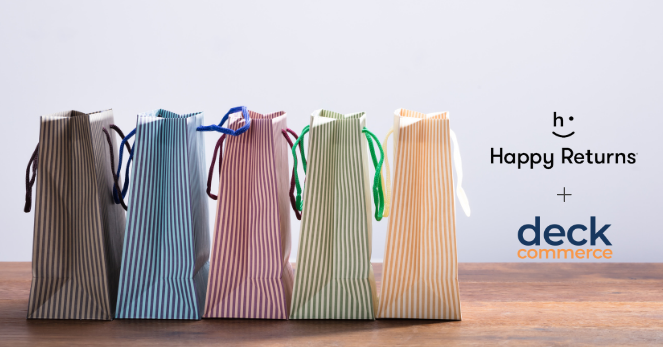 Following a record-setting holiday sales (and returns!) season, we tapped our friends at Happy Returns to get their POV on how in-person return drop-off options increases customer satisfaction and decreases waste and lost costs.
Here's our exchange with Chris Schwager, Director of Business Development at Happy Returns.
Returns are an inevitable retail reality and always bear operational costs - but returns don't have to be a negative in the order lifecycle. How can returns be an opportunity for retailers?
Returns are often viewed as an unavoidable burden, but they actually present an incredible opportunity for retailers to raise customer lifetime value. One of the biggest ways to cash in on these opportunities is by having best-in-class return policies and offering customers innovative options to returns their items, like box-free, in-person return drop offs to your store or through a third-party location like Happy Returns' Return Bars.
In-person returns have been proven to delight customers.
With 87% of shoppers saying they won't buy from a brand again after a poor return experience, making sure that your return process is effortless and convenient presents an opportunity to lock in customer loyalty. It doesn't get more effortless than the ability to walk into a nearby drop-off location and hand over your return for an immediate refund, without any boxes or labels.
87% of shoppers say they won't buy from a brand again after a poor return experience.
In addition to being the best possible customer experience, in-person returns are fundamentally less expensive for merchants, not only because the "first mile" is free, but because of the ability to aggregate items for bulk shipping greatly reduces the costs associated with individual shipments.
The pandemic shifted into warp speed online ordering and omnichannel behaviors, like BOPIS and curbside pickup. How have consumers' expectations for returns and exchanges changed in the past 12 months?
Shoppers became frustrated with shipping delays caused by overwhelmed carriers and processing delays caused by overwhelmed 3PL's – leading them to wonder where their refunds were, or to worry that their return was lost in the mail.
Merchants that offered in-person returns and immediate refunds at their own stores or through a third-party drop-off network became more likely to increase loyalty by offering multiple fast and convenient options for their customers. In fact, ever since Amazon launched in-person drop off at Kohls, UPS Stores, and Whole Foods, customers have now been trained to demand this level of service and convenience.
To help enhance the customer experience even further, we've developed a completely contact-free return drop-off process through the use of Happy Returns QR codes. The concept not only helps shoppers to feel safe, the drop off time is also less than 30 seconds.

The online storefront

buying

experience has long monopolized ecommerce professional's focus (and budgets). But we know order placement is just the beginning of the full order lifecycle. How does optimizing returns & exchanges impact the customer experience?
A robust returns solution doesn't just help you save money and convert refunds into exchanges – it has a significant impact on the overall customer experience. When you automate your return process with best-in-class software, you're providing a branded, streamlined experience for your shoppers that doesn't require them to call your customer service team for help – something that absolutely no one wants to do, ever.
Utilizing in-person drop-off services improves the customer experience even further:
An

additional return method means you're giving shoppers a choice to return in the way that is most convenient for them.

I

n-person returns allow customers to have their refunds initiated immediately. In this way, they're no longer waiting for their returned items to get all the way through the mail (and then to be processed in a warehouse) before being checked in.

Y

ou can offer box-free, label-free drop offs, which lets shoppers skip the hassle of taping packages and printing labels that's associated with returns by mail.



Consumers have come to expect instantaneous updates and visibility. What customer communication touch points should retailers prioritize through the returns & exchange process?
When refunds are initiated immediately, shoppers are less anxious about tracking their packages through every stage of the return journey. That said, the customer experience is greatly enhanced by integrating with an order management system (OMS) that can send real-time status updates and automatically trigger refunds with the payment gateway upon return confirmation.
Communicating with customers is key, which is why a return confirmation email should be sent as soon as the return has been accepted. With Happy Returns, this confirmation (and refund initiation) can be processed within seconds of an in-person drop-off in-store or at a Return Bar.
Integrating with an OMS also allows Happy Returns to tap into inventory visibility to present alternative exchange options to shoppers in real time during the online returns-initiation process. Inventory exposure at this key point helps secure new orders and prevent unintended OOS backorders.
Unlike in-store returns, dropping an item off at a Return Bar or shipping it back directly to the retail's warehouse does not naturally expose the consumer to other products to immediately capture a new sale. How can retailers capitalize on promoting exchanges over returns—or more directly promote a new shopping cart—during the online return initiation process?
Exchanges are one of the greatest tools in a retailer's arsenal when it comes to retaining revenue and avoiding refunds, and they can absolutely still be promoted through the online return process. The key is to replicate what a shopper would experience in a store (associates offering them alternative items), by having your front-end software proactively suggest an exchange based on the return reason they provided.
Exchanges are one of the greatest tools in a retailer's arsenal when it come to retaining revenue.
If a shopper is returning a shirt because it's too big, for example, Happy Returns references available inventory from the OMS to immediately suggest the next-smaller size available as an exchange option.
The easier you make it to exchange an item, the more likely a shopper is to reorder instead of asking for their money back. Happy Returns has seen our retailer customers that leverage our one-click exchange feature increase their exchange rate to achieve up to 2X the industry average.
Reverse logistics is more than just a step in the consumer journey—it's also a part of the retailer's story of economic and environmental efficiency. How does proper aggregation and disposition of returns decrease the burden on customer service and on the environment?
Aggregating items to avoid expensive individual shipments is an incredible way to amplify your values as you help take care of the planet. At Happy Returns' Return Bars, for example, we collect items from multiple retailers and place them in the same cardboard-free reusable tote for bulk shipping. The elimination of cardboard from our reverse logistics process reduces greenhouse gas emissions, while fewer boxes to ship helps reduce fuel waste.

The proper disposal of items is another way to enhance your sustainability. Thoughtful disposition prevents merchandise from unnecessarily going to landfills, while having a plan for donations in place helps ensure items make it into the hands of folks who could use them.
Supporting "return-less refunds" for items that can't be resold for hygienic reasons (i.e. underwear, beauty products, etc.), further reduces excess shipments. In these instances, shoppers are granted a refund, but are not required to ship the item back—avoiding needless carbon emissions and cardboard waste.
Interested in learning more about Happy Returns? Request a demo, or ask your Deck Commerce Customer Success Manager for more information on returns automation.
---
About Happy Returns
Happy Returns' software and reverse logistics are the industry's only comprehensive returns solution. Its Return Bar network of over 2500 Return Bars nationwide allows shoppers to easily exchange and return without printing, packaging, or person-to-person contact. The experience lasts under 60 seconds, and shoppers receive refunds immediately. All items bulk-ship inside eco-friendly, reusable boxes—leveraging low carrier rates and aggregated shipping for economies of scale—to regional Return Hubs, where they are sorted, dispositioned, and processed.
Customers using Happy Returns' full offering average 20% cost savings, a 94 NPS, 50% program adoption, and up to 2X higher exchange rates. A Gartner 2020 Cool Vendor in Retail, Happy Returns guarantees 10% savings in the first year. For more information, visit retailers.happyreturns.com.