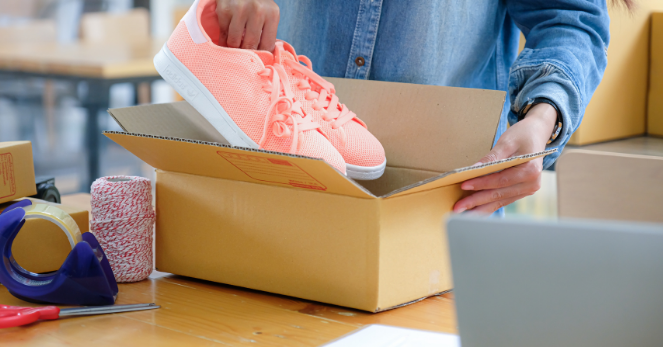 As a worldwide pandemic shuttered brick and mortars and confined workers to their homes, retail was forced to think bigger. Commerce depended on it, and survival—both for businesses and their consumers—meant retooling the formula.
In the dynamic commerce space, a successful omnichannel fulfillment strategy doesn't mean reinventing the wheel. Retail brands can make it easier for their customers to close their journey loop, whether that's buying and obtaining, buying and returning, or buying and exchanging. Whatever the path needs to be, simplicity is there every step of the way.
And consumers have expressed gratitude with their wallets: Statista estimated U.S. retail e-commerce revenue surpassed $1 trillion. Supply chain issues, rising inflation, and the end of the pandemic didn't keep people from shopping, especially when brands refocused on delighting customers with a seamless omnichannel experience.
One area that excelled in this customer-first priority is the footwear industry: In 2023, the global market value is estimated at $398 billion.
First, a brief overview of what omnichannel fulfillment is:
What is Omnichannel Fulfillment?
The last few years brought with it a mandate for an omnichannel approach in retail. It's now a must-have, and consumers expect more than one way to obtain or return a purchase.
Put simply, the omnichannel strategy is a consistent, seamless customer experience across touchpoints.

Types of omnichannel fulfillment:
Curbside pickup

BOPIS (buy online, pick up in store)

BORIS (buy online, return in store)

BOSS (buy online, ship to store)

ROPIS (reserve online, pick up in store)

Ship from store

Ship to home

Pick up in warehouse

Return to warehouse
TL;DR, for consumers: Any way you want it, that's the way you need it.


Grab our checklist for starting your omnichannel project.
One more note before diving into the footwear brands who are getting it right: You must examine your brand's fulfillment capabilities to successfully scale. A distributed order management (DOM) system will help you sync and automate across channels.
Now on to the success stories! We've found five footwear brands that have embraced omnichannel fulfillment to enhance the customer experience in interesting ways:
New Balance
The success: Using stores to fulfill local orders
The story: According to New Balance's president and CEO, Joe Preston, the company sold 50% of its volume through digital channels in 2020. That's a lot of e-commerce purchases needing fulfillment. With 200 U.S. stores, the athletic footwear manufacturer found it could get customers their shoes as soon as possible—and make returns right then, right there—by fulfilling orders locally. In the first three weeks of the San Francisco location's transformation into a micro-distribution center, 2,000 orders were shipped.
Shoppers can also filter their search by locally available products and reserve them for pickup.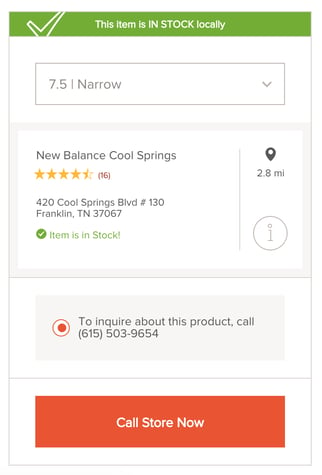 It creates a positive experience for customers, sure, but there's also the possibility for upselling: The digital reservation includes an in-person touchpoint. Working with a New Balance representative, this shopper's personalized experience resulted in seven new pairs of shoes.

Dick's Sporting Goods
The success: Speedy curbside pickup
The story: The immediacy of Dick's fulfillment is one way they're satisfying customers: One shopper noted that from receiving order confirmation to their order being ready for pickup was only 16 minutes. This wasn't a welcome anomaly, however: The company promotes one-hour curbside or in-store pickup.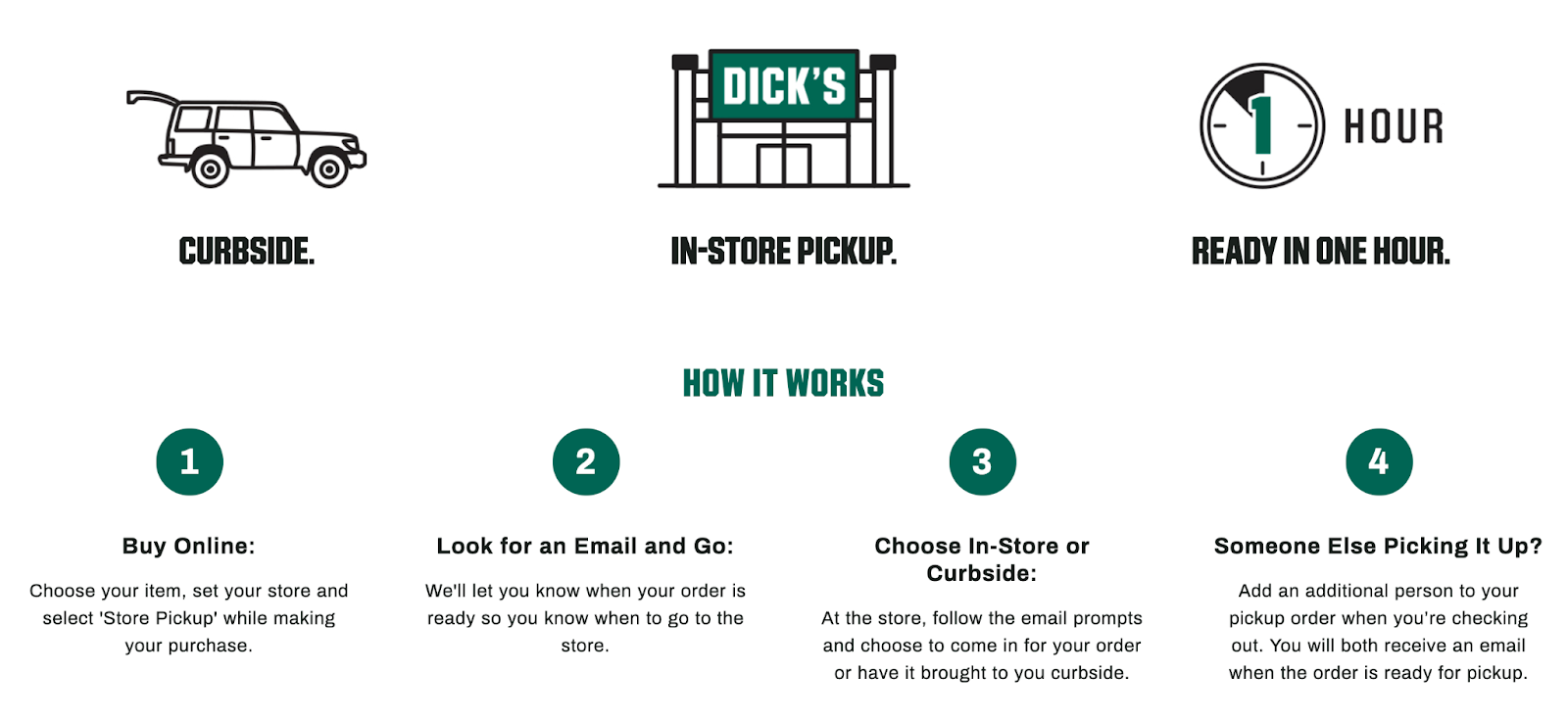 Not only is this timely for your footwear emergency, but you can also select a contactless pickup by choosing Curbside once you arrive at the store.

It's the same drill that's become familiar to shoppers: Look for signs at the store, check in on your phone, describe your car, and wait to pop open your trunk until you spot the Dick's associate with your order.
Nike
The success: Nike apps powering local fulfillment and reservations
The story: Nike has gone all-in when it comes to online sales. Embracing the digital experience has proven profitable: The company's department store sales lag behind those made online. Pre-pandemic, Nike aimed at e-commerce sales representing 30% of its revenue by 2023, but it soared beyond this goal in 2022, and is on track to represent 50% of Nike's revenue.
"Digital is fueling how we create the future of retail," CEO John Donahoe told CNBC in 2020, after the company piloted Nike Live, a thoughtfully studied local store effort combining digital with personal service.
The Nike App holistically encompasses this digital experience:
Its neighborhood pickup hubs process eligible orders within two hours and send the buyer a QR code once it's ready.

Using the App's member pass, shoppers can redeem products from a digital vending machine.

The company created a community around App users, with exclusive access to new products, birthday rewards, and feature stories on local Nike teams.
Another Nike app, SNKRS, is used to sell Nike shoes, apparel, and brands. Sneaker enthusiasts can reserve a popular pair as it launches.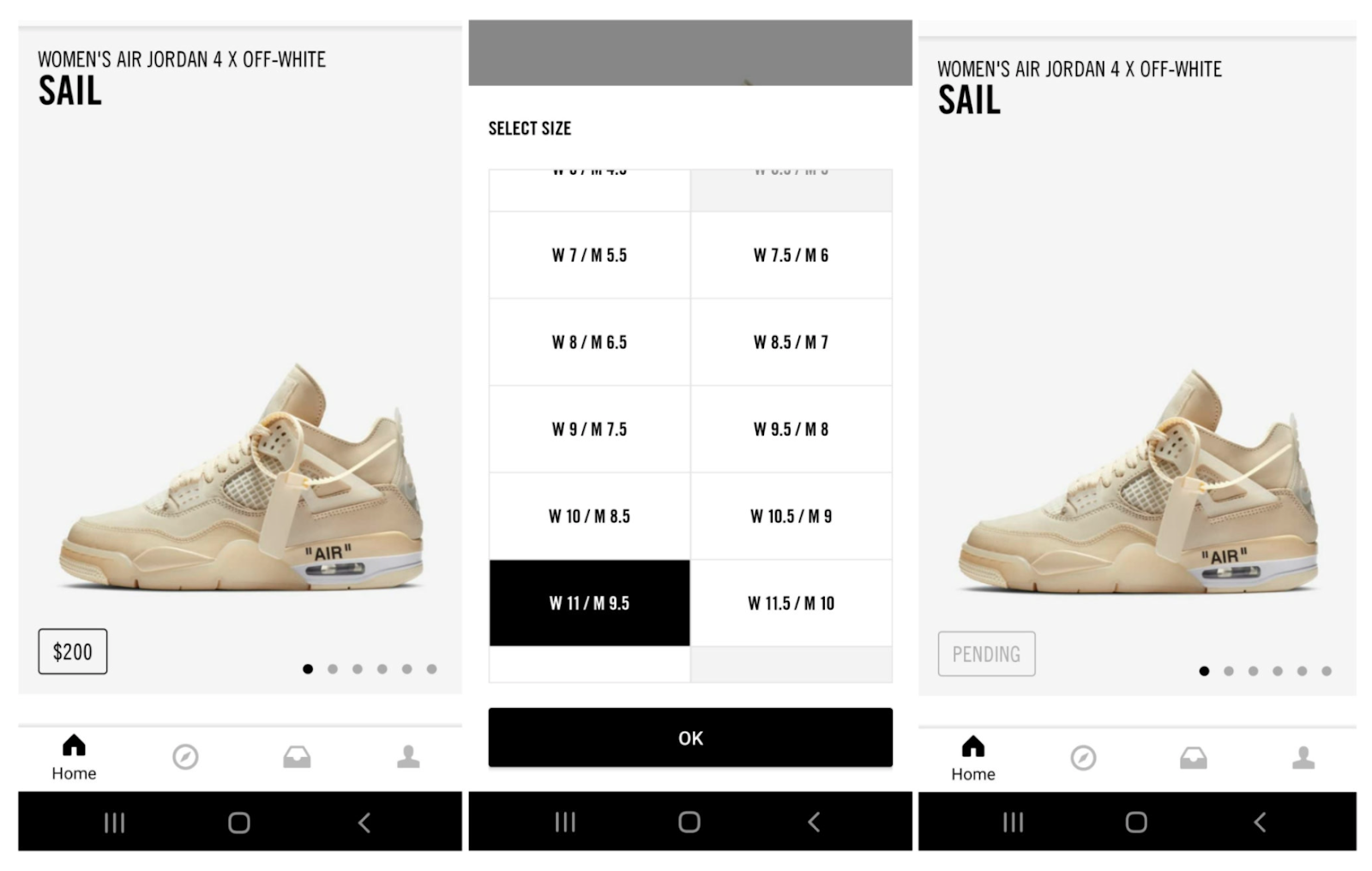 Nordstrom
The success: Local stores specifically for omni fulfillment
The story: Nordstrom created a winner in its aggregate strategy combining online shopping love with personalized brand services. This cross-channel engagement, dubbed Nordstrom Local, enables consumers to, say, buy a pair of boots online, pick them up at Local (or have them shipped to the closest Nordstrom), drop into the store for styling to match the boots, and have their newly purchased maxi skirt altered to skim above their toes just so.
Not only does Nordstrom consider your needs around its own products, but Local also makes it possible to donate gently used clothing and make online returns—from any business.
"Our key differential when we serve customers well is when they engage with us either with services and/or across channels, all of a sudden, the level of spend goes up, their level of satisfaction goes up, and our sales go up," said Nordstrom COO Kenneth Worzel.
The numbers support the market strategy: The company reports Nordstrom Local customers spend, on average, 2.5 times more.
Rothy's
The success: Convenient drop-offs with Happy Returns
The story: While the digitally-native shoe brand Rothy's now has six retail locations, most of its customers still interact with the brand online. That means when a purchase doesn't work for a customer, there isn't necessarily a nearby brick-and-mortar to accept and process that return or exchange.
Rothy's third-party partnership with Happy Returns allows them to make it right through a free, contactless drop-off at one of 3,800+ Return Bar locations. Since no box or shipping label is needed, Happy Returns is a sustainable solution that opts for reusable packaging and aggregated shipping.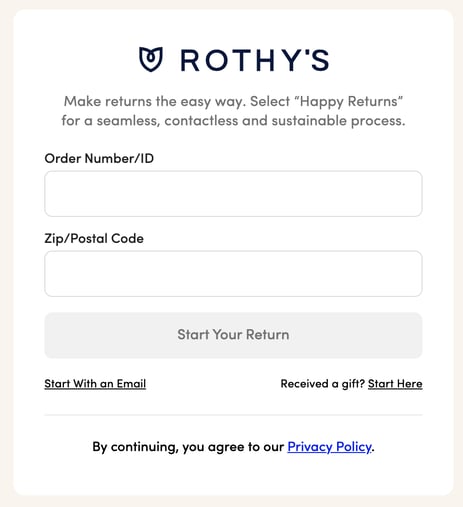 Yes, this makes returns easier on the customer, but another win for Rothy's is how Happy Returns gently points customers to exchanging over returning. It works: The one-click suggestion has seen Happy Returns' customers' exchange rates increase by 36%. As Happy Returns puts it:

Turning an intended return into an exchange means a sale remains a sale. And that's just good business for everyone.
Maintain consumer loyalty through omnichannel
Putting customers first isn't entirely altruistic, of course: Companies want to close sales and stay in business. But when customers sense and experience the ease with which brands have created the fulfillment journey, it's appreciated. A single negative experience is all it takes for 56% of shoppers to abandon doing business with a brand, according to a Freshworks survey.