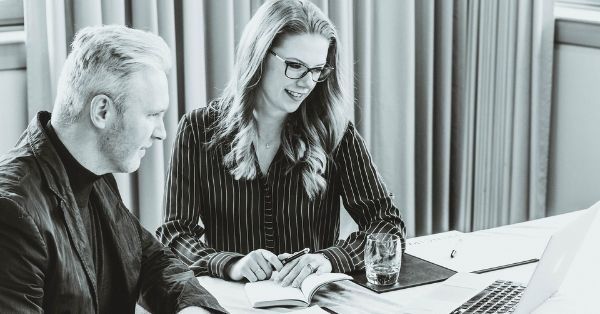 Before the global pandemic, only 4.3% of workers in the US were fully remote employees. A Gallup survey indicated that a little less than half of US workers worked remotely "some of the time."
Hopefully, the transition to fully remote—or "work from home"—work life is feeling more and more normalized as the weeks of COVID-19 social distancing roll on.
But as many workers try and hit a groove with remote work, it is helpful to brush up on proper etiquette for virtual meetings. These are especially critical when collaborating with external partner and customer teams—and making sure that a "poor" virtual meeting experience doesn't stall any projects or inhibit performance.
Since our team has moved fully remote in recent week and interacts with a variety of stakeholders throughout software implementations, we've compiled six evergreen reminders for e-meeting beginners and pros alike.
1. Be Heard — But Only When You Mean to Be
If you're calling into a virtual meeting, determine the form of audio that works best. If choosing to use your computer or tablet audio, make sure your microphone is turned on and working correctly so that you can chime in, ask questions, or lead as necessary. If you dial in to a virtual meeting audio connection over the phone, have your device handy throughout the meeting so you can still access audio controls.
However, get into the habit of muting yourself whenever you are not actively the speaker or contributor. Think of the conference software like a walkie talkie – you should "activate" the ability to be heard, and the default should be mute mode. Especially as we work from home, unexpected background noises (from laundry machines, to doorbells, to kids running through the halls) occur. And it's okay that they do. But it helps the entire team if those distractions can be avoided by muting your microphone when you're not speaking.
Also be aware that not muting yourself when someone else is speaking can cause unnecessary feedback, and even something as seemingly subtle as your fingers typing on your keyboard can be easily and frustratingly amplified.
2. Be Seen—It's Vital to our Human Connection
Humans are visual beings, and it's difficult for us to feel engaged with others when confined to only one sense. Dialing into the virtual meeting checks the box for audio, but layering in a shared smile or making "eye contact" can exponentially improve and maintain a feeling of unity and comradery – which is key to any successful project.
Turning your computer camera on should be required when speaking and is absolutely an imperative for the meeting leader. If you are only a participant and want to turn off your video while "listening" during a longer presentation, that's generally fine. But keeping your video on throughout can help the presenter pick up on nonverbal cues and be assured you are engaged.
Knowing you should at the very least "be seen" at the beginning and end of every video call when giving salutations, of course be conscious of how you are presenting yourself and your surroundings. In the very least, wear a professional shirt or top, and consider de-cluttering your workspace. You can alternatively explore "virtual backgrounds" on the conferencing software to create a more neutral backdrop—or add more of your own personality!
3. Sign On On Time (Or Even a Minute or Two Early)
As much as possible, think of your virtual meeting like it was an in-person experience. You wouldn't want to disrupt a room full of participants by having to open the conference room door, walk in and navigate to a seat for an in-person meeting – and, just so, it's important to be logged into the virtual call on time whenever possible. We are often subject to back-to-back meetings, and everyone can understand and forgive unavoidable overlap and delays – but, as a general practice, try to sign into the virtual meeting at least a minute or two early whenever possible.
If you're the meeting "owner," consider opening the meeting at least five minutes early, or enabling via the conferencing platform for participants to enter the call before you. Also, as the meeting owner, make sure you don't have back-to-back meetings in the same Meeting ID room. If one call is running over or participants in your next meeting are trying to sign in a minute early, it will cause some real awkward moments. Most conferencing platforms have the capability to create separate meeting credentials and even passwords for added security and control.
Lastly, signing on a bit early allows you to run through your own mini tech check and feel situated before turning your microphone and video on. It also provides natural time for small talk and friendly exchanges before the formal agenda begins.
4. Remove Distractions—For You, and for Others
The trickiest, most tempting part of virtual calls is the self-assumed ease of multitasking. It's easy to think we can listen and respond to email and check our LinkedIn and text our friend group chat. But, the truth is, it's mentally unhealthy for us – and ultimately a productivity killer. Too many of us are feeling more exhausted than usual with work after only a handful of weeks working fully remote – and it's because we're multiplying our layers of work in the virtual realm!
When attending an in-person meeting, we're much better at avoiding our computers, phones and smart watches to exhibit undivided attention. Our attention can be singular. Not so much when we feel we can "get away with" multitasking. But trying to multitask or use dual screens not only distracts our attention more than it should be from the meeting on hand, but it wears us down mentally as we try to balance 2x or 3x more unconnected thought processes in a given moment.
The best way to avoid distractions during virtual calls is to commit to taking handwritten notes. This keeps your hand off the mousepad (which too often leads us to opening new applications out of pure habit) and focuses you on thinking about the most critical, summarized thoughts to write down. Try setting your phone just out of reach, pausing your watch notifications, and closing private messaging apps on your computers when logging into a virtual meeting as well.
We promise you'll feel more engaged—and less exhausted—at the end of the call!
5. Utilize Additional Capabilities & Features
Explore the conferencing application a bit. Most have handy features, like being able to "raise your hand' to indicate to the presenter that you have question to pause for, without having to audibly interrupt. Most platforms also have a chat feature to pose questions or considerations—or explain why you must log off temporarily—without speaking over the presenter.
Other helpful features can include virtual "white boards" for quick visualizations, participant polling, and breakout rooms. Another benefit of logging into the conferencing platform a few minutes early is that it allows you to orient yourself with the features on hand.
6. Be Professional—But Also Empathetic
Distractions, errors, oops, and unexpected moments will happen – especially when pets, kids and spouses are home. We're all in this COVID-19 predicament together, and no one's situation is perfect. Muting your mic when not speaking can, of course, reduce some of the unexpected distraction, but life happens. Distractions are somewhat inevitable. If an interruption occurs, it's okay to laugh/shrug it off – but keep moving forward and remedy as quickly as possible.
Need a laugh? Watch this formerly viral video, "A Conference Call in Real Life" for a fun reminder of common mishaps that are occasionally bound to happen. We should do our best to avoid these awkward situations, but can also laugh along when mistakes happen.
Summary
Whether you consider yourself a virtual meeting connoisseur or a total newbie—remember we are all in this together., And it's important to remember our shared humanity and the foundations of professional relationships. We need to speak with one another (audio), be present with one another (video), show respect and engagement (avoiding distractions), introduce creativity (incorporating helpful features), and be understanding with one another (empathy).
Virtual meetings can help us all remain unified amidst the uncertainty of the times and continue to do great work alongside each other. And here at Deck Commerce we believe that unified commerce is more than a customer service pipedream – Unified is our way forward as retail professionals, vendors, and colleagues.
Sources