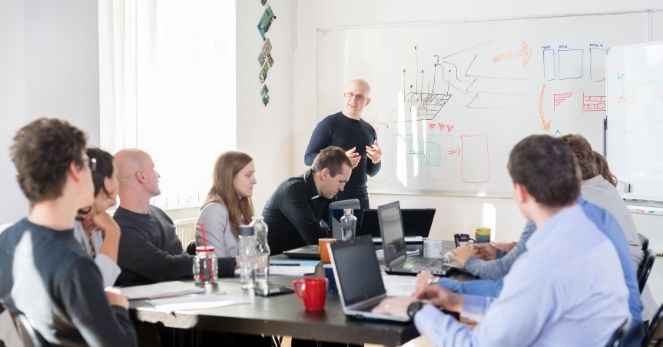 Employees entering the workforce are increasingly choosing growing technology or software-as-a-Service (SaaS) companies over larger Fortune 500 companies. Why? Because good things can come in smaller-than-corporate packages.
1. Work in a fun, lively environment
Forget cubicles and snail-pace progress. Fast-paced and rapidly changing by the minute, a growing technology company sprints to solve and deliver faster than others to win the race. Who would've thought a day at the races, ahem…office, could be so exciting?
2. The growth potential is infinite
Every day millions of people turn to their computers and smart phones to shop, work, and even learn—now more than ever amidst a global pandemic. This continues to push innovation to new levels, making the tech field a great opportunity for rapid career advancement as the company grows. (Bonus points if they have stock options available for employees!)
3. You can flex your analytical & problem-solving muscles
Because a growing technology company needs to disrupt in order to dominate, there is no shortage of opportunities to exercise creativity and problem-solving—two things that a growing tech company wouldn't exist without! So, if you're the type of person that loves creating and doing, this may be a good place for you to land. There is always a new challenge to solve, meaning that you won't be bound to the same tasks or rigid routine day after day. This can offer a very different experience than working at a larger corporation with a less flexible plan in place.
4. It's rewarding (personally and professionally)
There's nothing more exciting than successfully creating something. The hard work it takes to nurture a growing business with a developing product to success is a life experience you will never forget. If you are lucky, you may get to see some of your fingerprint on the brand or product itself.
5. Be part of a close-knit group
It's hard to find a better group of people than those working at a tech company—who often prioritize culture and teamwork at the top of the list.

Working closely with other passionate people all bonded by the goal of growing the company from the ground up means that you can count on their tough (and unconditional) support to push you to be better than you were yesterday.
6. You are part of the bigger picture
As a bigger fish swimming in a small pond, you have the chance to see your efforts directly contributing to the company's goals and success. You are also more likely to be recognized for your hard work and accomplishments. If you're there from the early days, you may even help define its culture, and bring other talent alongside you to curate the future success of the company.
7. You get a ton of experience
Having to wear multiple hats lets you get involved with many areas and interact with different people in the company, enabling you to adopt new skills and build upon existing ones. Not to mention that greater fluidity between roles can spark inspiration and innovative developments to achieve success and personal growth.
Bigger Doesn't Always Mean Better
As you are looking for your next step in your career, working at a growing tech company offers a challenging, yet rewarding, life experience.

Bigger doesn't always mean better; working at a tech company in growth stage has the potential to accelerate your career and change your life.
---