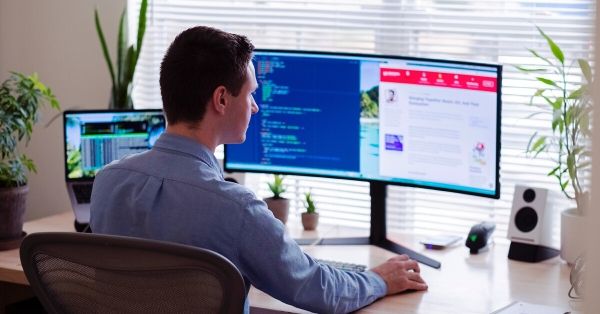 You're charged with keeping your company's digital transformation project on track, be it a rapid response game plan to weather COVID-19 or a long-term strategic evolution.
Regardless, timeliness and efficiency are more imperative than ever—yet you're working with fully remote teams.
Although it's on each individual team member to be an active, dialed-in participant, it's up to you as the project lead to enable and navigate a smooth execution. To help, here are five timeless tips from our in-house project management experts:
1. Institute Routine
If 2020 has taught us anything, it's that life is unpredictable. Flexibility has been crucial during this transition to "the new normal," but stability has, interestingly, been an overlooked virtue. How can you stabilize your team? Institute routine.
Regularly scheduled meetings should not be a casualty of a pandemic. In fact, reoccurring meetings are, to some, therapeutic. They reintroduce normalcy and predictability into our days – and thus preparedness! Consider the frequency at which you would meet in person "under normal circumstances," and use that frequency as the minimum for scheduled virtual meetings.
If you're working on a particularly fast-moving project, now may be a great time to introduce a daily 15-minute virtual "stand up" meeting. Here, team members can rapid-fire report on the status of deliverables and identify any barriers to success. This is not a time to problem solve—but to (1) identify what conversations need to be had in the next 24 hours, and (2) keep the project's next steps on every team member's mind.
One more consideration: Designate recurring "office hours" on your calendar and regularly remind your team that you are available for "pop in" questions and discussions during those windows of time. Set aside at least 2-4 hours a week for your "office hours" and spread them between different days to accommodate your team's schedules. Obviously co-workers can't poke their heads into your physical office when working remotely—but they can pop into an open virtual meeting room. Set aside an hour of your day to "sit" on an open call. Anyone on the team can join at any time in the hour to ask a question of you, or just check in. If no one is on the line, no sweat. You can use the time to work on other tasks… but have the virtual room up and open so you'll know if anyone else does join.
2. Over Communicate (but within reason for each communication method)
Without casual office run-ins, team members may be lacking natural opportunities to seek clarity or be subtly reminded of to-dos throughout the day. And with the unavoidable distractions of the home office, there's no guarantee that everyone absorbed every sentence of a conference call.
As the project lead, always err on the side of overcommunication—especially when it comes to objectives, deliverables, and expectations. Compose an agenda for every scheduled meeting to send in advance and make a habit of listing those at the top:
OBJECTIVES: What are the goals? What is the intended result? What does success look like?
DELIVERABLES: What decisions will be made? What will be presented? What action items need to be completed?
EXPECTATIONS: Who needs to attend/present? What will the next steps be? What's the timeline/due date?
Add them to meeting invites, speak to them at the opening of each call, and always include in recaps.
Your team should hear from you before, during, and after every scheduled meeting. If the project you are overseeing includes other departments, sub-teams, and/or external partners, consider instituting a 15-minute debrief with a core group (designated representative from each) at the conclusion of each conference call. Asking that core group to remain on the line for a few extra minutes will provide you with real-time feedback and allow you to delegate tactical follow-up items more effectively.
3. Set Internal Guidelines for Communication Channels
In the spirit of robust communication, establish multiple communication methods and channels for team collaboration. And outline objectives, deliverables, and expectations for each. This will help keep email chains manageable, casual chats peripheral, and core documentation traceable.
For example, chat platforms like Slack are great for short, clarifying questions and answers, re-sharing linked documentation, and general team building light conversation.
But Slack should be discouraged as an assumed storage hub for core documentation or for email-length explanations. Similarly, let your team know that email chains are only effective if the length of content is easy for recipients to digest. Communicators should be self-aware of when picking up the phone versus scheduling a one-off video chat is warranted.
TLDR - Don't overload your explanations
In the IT world, a Service Level Agreement, or SLA, sets the bar for "acceptable" quality, availability, and response times. Consider establishing "SLA-like" guidelines per medium to keep them from getting bottlenecked. Here's the standard our internal teams expect from colleagues for most noncritical communication at Deck Commerce:
| | |
| --- | --- |
| Internal Channel | Expected Internal Response Time |
| Direct 1:1 chat message (e.g., Slack) | Reply within 30-60 minutes |
| Direct or implied mention in a chat channel (e.g., Slack) | Reply same day |
| Email | Reply within 24 hours |
| Scheduled call | send follow-up, recap, and next steps within 24 |
As the project lead, you can set your own expectations to maximize efficiency while remaining flexible. Take into account that your colleagues may be scattered across different time zones or may trying their best to balance family care throughout the day when schools are closed, and the kids are home.
4. Identify a Single Source of Truth for Central Documentation
Everyone—literally everyone—hates digging through inboxes frantically attempting to locate a long-gone attachment that a colleague references. This angst is amplified when it means scrolling up through thousands of chat messages in a Slack channel.
Every core piece of documentation—be it meeting agendas, notes, POVs, overviews, reports, PowerPoint presentations, or links to relevant resources—should be housed in a team sharing portal intended for documentation and/or project management. And as the project lead, it's your responsibility to centralize and enforce this expectation.
Microsoft 365 (SharePoint), Google Drive, and Confluence are by far the three most used platforms. All allow easy folder hierarchies, sharing permissions, and version control. It can't be emphasized enough: Slack (or your messenger tool of choice) is not a project management tool.
Although it's your responsibility as project lead to help set up the space, it's everyone's responsibility to keep the folders updated. Condition the habit that once an email is sent, the sender's immediate next steps should be to upload any attachments to the documentation hub "for official record."
Bonus tip: Designate a file naming convention early on.
Example: MASTERPROJECTNAME_SUBPROJECT_DOCUMENTTITLE_DATE(DAY-MONTH-YEAR)
5. Make Opportunity for Collaboration and Conversation
Let's take this final tip in two parts: (a) during meetings and (b) offline.
During Meetings
It's a simple formula: the larger the group, the tougher the video conferencing call. Whiteboarding, breakout sessions, and large group discussions—though possible—are extremely difficult to manage. Big personalities and small screens don't mix; some will boast through, others will zone out.
The trick to enhancing collaboration and conversation during a meeting is to lay the proper groundwork before the meeting. In addition to sending out the meeting agenda, also send a short list of "points for consideration." These should be sent to all meeting attendees at least 24 hours in advance. This allows every participant to have enough time to think critically about the upcoming discussions. Sometimes the loudest people in meetings are just the ones who can think quickly on their feet when a new question is posed… but that doesn't mean they have the smartest answer. This helps brew more thoughtful answers from more players because everyone has enough time to prepare their point of view.
To that end, consider asking two or three participants in advance of each meeting if they can be ready to speak to specific thoughts around "Topic X" or "Question Y" – and then call on them in the meeting to share. You can, of course, call on anyone in the meeting, but this gives a new element of responsibility and importance to those who you ask in advance. Make sure that every team member is involved over time and consider calling on the more junior members before moving on (or defaulting) to the senior voices in the room.
Prior to meetings, also compose as many visual aids as possible – be it sketches, mappings, bulleted lists, data charts, etc… whatever will bring concepts alive for your team. You don't have to send them in advance, but have them ready on-screen during the virtual meeting. Oh, and always, always have your video camera turned on as the meeting leader. When the leader can't be seen, it subconsciously exudes a feeling of secrecy, disconnectedness and uncertainty.
Offline
Social gatherings may be limited, but team building is not on hold. As human beings, our relational nature is constantly in flux. it's as if our sense of connectedness resides in a steadily flowing river. If we aren't actively moving against the current, we're drifting away from one another. There is no "staying the same" without attempt. Team building must be an unceasing practice.
Find ways to introduce spontaneity, humor, and leisure, when appropriate. If the team's only interaction with you and with one another is only business-focused, it will be tough to develop a devoted team mentality. Even soldiers laugh and play with their battalion off-hours, when time allows. Your job is to make that time. Your success as a project leader is judged not only on the budget and timeline of execution, but the health and retention of your team and knowledge base.
So, replace a regularly scheduled meeting with a virtual happy hour every now and then. Cut a meeting 20 minutes short here and there to talk about favorite TV shows or allow everyone to "have time back" in their days. Check in with team members—especially junior roles—one-on-one periodically. Not just on work and progress, but on life and progression. Ask for ideas and feedback on how to make the project more efficient and the team happier. Show gratitude and give affirmation, publicly and privately.
To be a strong leader, you need strong followers. Invest in them. Remarkable work is achieved by passionate people. As your digital transformation project aims to bring a unified commerce experience to your consumers, first work to unify your colleagues.
Want to keep your teams on track? Lay the track and re-imagine the virtual junction of collaboration.