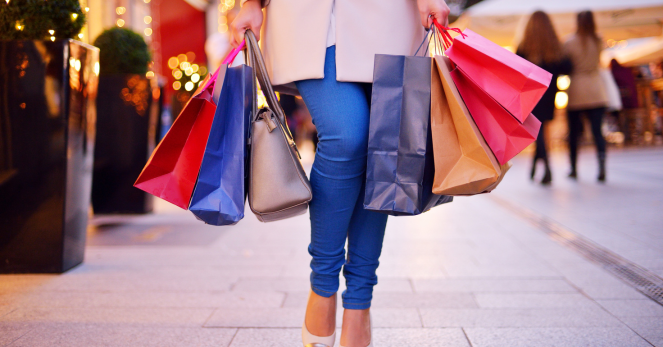 Planning for the 2023 holiday season has already begun for many brands. They're evaluating last year's results— what worked, what didn't, and how they will improve this year.
Many times, how smooth or bumpy the holiday season goes depends on a brand's technology.
Were customers frustrated because they didn't receive their orders on time?

Did you have unsold products because you lacked visibility into all inventory sources?

Could you not expose store inventory to provide convenient omnichannel fulfillment options?
In this article, we'll look at lessons learned from last retail peak season and how having the right order management system can help brands create a seamless holiday shopping experience.
Lessons from Last Retail Holiday Season
With all the uncertainty in the world, one thing we can always count on is the hustle and bustle of the holiday season. It's a time of normalcy and nostalgia for many—finding the perfect gift, getting up early to beat the lines on Black Friday, or scrolling for deals during Cyber Week.
Here's a look at some things we learned from last holiday season how an OMS can help retailers capitalize on these holiday spending trends.
Start holiday sales early.
40% of shoppers say Black Friday sales begin before the week of Thanksgiving. Deck Commerce customers saw a 50% increase in sales value and order volume between the first 2 weeks of November.
Offer multiple payment options.
Additional payment methods = additional convenience. Having the right payment options can increase cart conversion by up to 30%.
Offer multiple fulfillment options.
Brands offering BOPIS grew their online sales 7x faster than those without BOPIS in the days leading up to Christmas. After the ground shipping cutoff date, over 35% of all orders placed in the week leading up to Christmas were fulfilled in stores.

Automate the returns process.
Last year saw a 63% increase in returns occurring before December 25, with returns doubling the week after Cyber week. By automating the returns process, brands can process refunds faster for customers and provide quicker inventory turns to get products back on the shelves.
6 Ways an OMS Can Help Retailers Prepare for Holiday
What can retailers and brands do to help them have a successful holiday season? With labor still being hard to find (and expensive to train) and consumer expectations at an all-time high, brands need to lean on their technology to help them navigate peak seasons. Here's how an order management system can help brands prep for the holidays.
1. Do more with less
Every moment is critical when fulfilling an order. An order management system allows retailers to automate up to 98% of order processes, saving countless hours of manual work. Employees are no longer buried in administrative tasks but can focus on serving their customers well.
2. Offer convenient delivery methods
Consumers want options when it comes to delivery. Some want their item in 3 days or less, some prefer to pick it up at the store or curbside, and some change their mind mid-process. (They didn't realize they'd be right next to your retail store when they selected home delivery). With an OMS, retailers can highlight all the available delivery methods right on your storefront as well as make any last-minute changes.
3. Extend holiday sales / deadlines
While many shoppers plan to get a jump start on their holiday shopping, we can't forget about those last-minute shoppers. Highlighting which items you can offer via in-store pickup or curbside gives brands the ability to nab those last-minute shoppers or provides the option to extend promotions "in-store only".
Pro Tip: Don't forget to promote your digital items (e-gift cards, ebooks, extended warranties, etc.) as they make great last-minute add-ons.
4. Have a centralized view of your inventory
Sixty percent of logistics professionals
are concerned again this year about inventory shortages making it more important than ever to have insight into all inventory sources.
When brands have clear visibility into all their inventory, they can make better business decisions. Knowing how much is allocated to which selling channel or how much is available at each fulfillment center gives retailers the ability to move inventory to where they need it most. For example, your OMS allows you to allocate more inventory to a channel that's selling faster than anticipated or showcase on your storefront what items are available at local stores.
5. Meet your delivery deadlines
One in three shoppers says they expect their ecommerce holiday gifts to be delivered in 2-3 days according to Radial's customer insights study. Which makes it no surprise that 82% of logistics professionals are worried about missing delivery windows this year.
Set capacity levels at each fulfillment center (whether that's a warehouse or a retail store) so as to not overwhelm the facility and staff and meet fulfillment KPIs.
6. Keep your customers informed about their order
There's peace of mind that comes with staying informed. And in arguably one of the most stressful times of the year for people, communication is key to building consumer loyalty.
Let customers know when their order was shipped, when it's on the way, and delivered. Over communicating is better than silence (no one complains about getting their tracking number). With an OMS, these communications can be automated to keep customers informed about their order every step of its journey.
While the holiday season may be stressful to some, it doesn't have to be for retailers. Retailers that invest in their technology can provide their customers with the most wonderful shopping experience of the year.
Editors Note: This blog was originally published in 2022 and updated to reflect 2023 numbers and data.