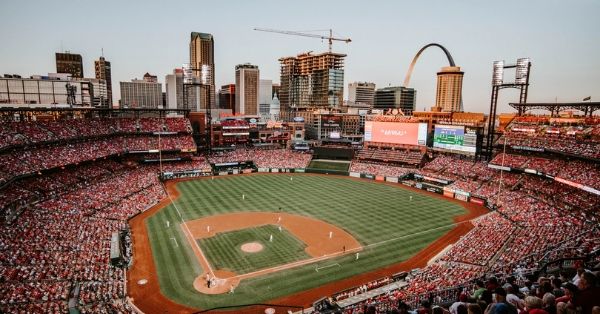 The Gateway to the West — home to the best sports teams and several world-class universities and healthcare institutions. As the St Louis Business Journal reports, the city is now one of the nation's fastest growing startup cities.
The article pulls information from a recently published report by the Washington Monthly.
St. Louis is a long way from becoming another Silicon Valley. But its sudden emergence as a hotbed of entrepreneurship holds lessons for a country struggling to make a growing economy benefit Americans who don't happen to live in a handful of booming coastal megalopolises. For decades, St. Louis followed the familiar economic development playbook: try to attract big out-of-town companies, or keep local ones from leaving, by showering them with tax breaks and other subsidies. While it hasn't exactly abandoned that old strategy, St. Louis has increasingly shifted to a new one of attempting to grow its own small firms. Metro areas across the country are trying to do the same, in many cases with little to show for their efforts. St. Louis seems to have hit on the right formula, though actions in Washington could determine whether, over the long term, it succeeds or fails. While it may be hard for people who think of St. Louis as part of "flyover" country to wrap their heads around the idea of it as a startup haven, the numbers don't lie. Business creation in St. Louis has risen every year since 2009, jumping 18 percent from 2012 to 2013, a year business creation actually fell nationally. In 2006, St. Louis was 11 percent below the national average in the number of new firms per 100,000 people. By 2012, St. Louis had narrowed this "startup density" gap to only 3 percent, according to the Kauffman Index of Entrepreneurship. St. Louis now ranks twenty-sixth among the top forty metro areas by startup density, ahead of some cities that garner lots of attention for their entrepreneurship scenes, like Pittsburgh, Columbus, and Philadelphia. St. Louis's startup scene is most noticeable in the information technology sector, led by such firms as the social media company LockerDome and app developers RoverTown and Aisle411. Venture capital companies poured $176 million into area IT startups in 2015, up from $66 million in 2013, according to the St. Louis Tech Startup Report. That is roughly double the figure of Kansas City, a region of a similar population on the other side of the state. St. Louis tech startups employed more than 1,400 people in 2015, up from less than half that in 2011. In 2015, three new accelerators started in St. Louis, and three new venture capital funds entered the fray.
For Deck Commerce, the emergence of this new and vibrant ecosystem couldn't be more timely. We have plugged into the community; as the report notes…
…a former telecommunications manager and entrepreneur named Jim Brasunas had an idea. Brasunas had lived in St. Louis since 1994 and been involved with several technology companies, including running an incubator in downtown St. Louis. In his dealings with tech entrepreneurs around the region, he discovered that they all felt alone in their attempts to build successful companies there. They didn't know other up-and-coming entrepreneurs in the same sector, or have successful older ones they could turn to for advice. Brasunas also learned that area investors looking to put money into IT startups had no idea that there were any such firms in St. Louis. Sometimes an entrepreneur and an investor would be on the same flight to San Francisco to talk to venture firms, utterly unaware of each other's presence. "After hearing the same story twenty-five or thirty times, I just started getting these people together casually," says Brasunas. In 2008, he formalized this network by starting a nonprofit organization, the Information Technology Entrepreneurs Network (ITEN). To get his operation off the ground, Brasunas applied for funding from the Missouri Technology Corporation (MTC), a public-private investment fund controlled by the state government and championed by Governor Jay Nixon. The MTC's very existence was another example of the change in thinking that was occurring about how to jump-start economic growth. As in just about every other state and municipality in the country, Missouri's strategy had long been to throw tax dollars at big, footloose corporations. It's a popular practice with voters and politicians, affording the latter the opportunity to hold press conferences to announce that they've lured a new corporate headquarters to the area or kept an existing one from leaving. But in terms of actually boosting net economic activity, it's a mug's game. A study by the researcher Nathan Jensen found that St. Louis–area companies receiving Missouri state tax incentives have actually performed worse in terms of creating jobs than companies elsewhere in Missouri that didn't receive incentives. The MTC's modest initial grant to ITEN in 2008, plus later expansion grants, turned out to be wise (the Kauffman Foundation also supported ITEN). Over the next eight years, ITEN helped catalyze the entire entrepreneurial ecosystem in St. Louis. Today, many entrepreneurs and others give a huge amount of credit to Brasunas and ITEN for building connections and thus creating a new network of entrepreneurial support. Indeed, Yasuyuki Motoyama, in a paper coauthored with Karren Watkins at Washington University, points out that the "connections between novice and experienced entrepreneurs" that ITEN facilitated are probably the single-biggest factor in St. Louis's entrepreneurial emergence.
As we've noted previously, Deck Commerce is a proud graduate of the ITEN Mock Angel program and a recipient of funding from the Missouri Technology Corporation (MTC). In addition, the report specifically references one of our key advisers, Ken Harrington…
What, then, is St. Louis doing differently that might explain its relative success? In a recent article in the journalInnovations, Ken Harrington, who led the Skandalaris Center for over a decade and has been closely involved in the St. Louis startup scene, argues that the secret sauce was "connectivity." In the past, St. Louis was not without entrepreneurial energy, according to Harrington, but it existed in disconnected pockets. This stymied the formation of an "entrepreneurial genealogy" that occurs when successful entrepreneurs from one generation become the next generation's mentors and investors. This genealogy is a distinguishing characteristic of places like Silicon Valley.
Exciting times for the city of St. Louis. Exciting times for Deck Commerce.
‍