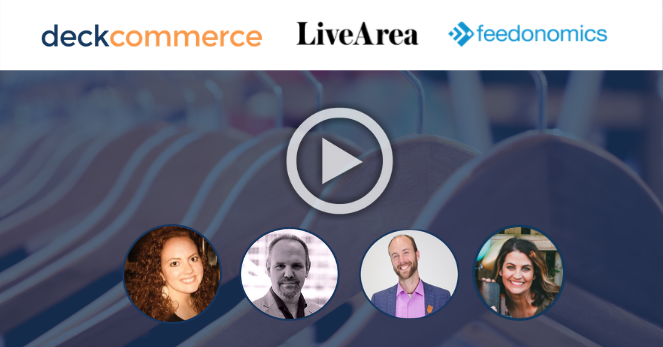 In this episode of Covering Commerce, we sit down with Alexandra Wood (LiveArea), Craig Dooley (Deck Commerce), and Colin Madden (Feedonomics) to discuss what trends stood out from last year, and what's to come in 2021.We discuss:
2020 was a crazy year. What is one thing that stood out about retail last year?
What buyer habits did we see that will stick around? What habits won't outlast this season of retail?
What predictions do you have for 2021?
What are the non-negotiables for retailers now?
If you could give brands one piece of advice, what would it be?



Quote-Worthy Insights:
"Trustworthy content is what converts browsers to buyers."
"Risk is mitigated in retail through trust."
"2020 highlighted what we already knew. Shoppers are moving online."
"Surprisingly, consumers were more okay to wait on longer shipping times, but they're not going to continue to be willing to do that."
"Retailers have to build trust with consumers. If a buyer buys something online because they say its available to pick up in store— if it is not there—then that buyer loses trust and confidence in that brand."
"Buyers were forced to weigh convenience against risk in a new way."
"Many buyers [while hesitant previously] became willing to brave the return label." (more on return management)
"Retailers have to have a stronger pulse of inventory at every phase of the supply chain—whether in manufacturing overseas or in the delivery truck on the way to the doorstep."
"You have to have the right technology stack in place to tell your brand story."
"A lot of retailers struggle with understanding what level of inventory they have across their channels"
"Retailers really had to be transparent with shoppers to align on expectations."
"Many retailers redefined who they were. Brands who traditionally thought of themselves as a brick-and-mortar retailer now consider theirselves way more digitally native because of the technologies, like an order management system, they have in place."
"Brands can really only foster trust and transparency through the ability to adapt and change."
Mentioned Statistics:
80% of shoppers say they plan to use curbside pickup as much or more than they have already. - Statista
Of the top 1000 retailers, 70% have already implemented BOPIS and 80% have implemented BORIS. (Digital Commerce 360)
---
Meet the Panelists:

Alexandra Wood is the Solutions Director at LiveArea and a 10-year veteran in ecommerce. With experience supporting both the digital and operational sides of the equation, Alex's joy is found in solving challenges across the full spectrum of commerce. When not meeting with clients you can find her on a patio in good weather, traveling, or both. [Contact Alex: Email | Linkedin]



Craig Dooley is Vp of Delivery at Deck Commerce, the leading order management system (OMS) for D2C retailers. Craig brings over 25 years of experience working with retail brands, and ensuring technologies curate the best customer experience. [Contact Craig: Linkedin | Email ]


Colin Madden is the Sr. Director of Sales at Feedonomics. He oversees strategic conversations with retailers to ensure their digital channels are optimized for success. [Contact Colin: Email | Linkedin]